Bride
My birdcage veil!! A tutorial. I have been inspired by a lot of veils in the past few months.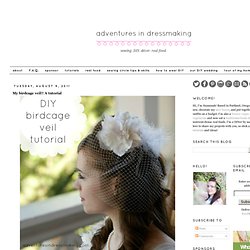 Lots. I decided I wanted a birdcage veil before I really knew what that meant, and there are a lot of variations! I wanted a big flower or other hairpiece, with veiling. Where to start?! Tutorials - StumbleUpon. Hola there!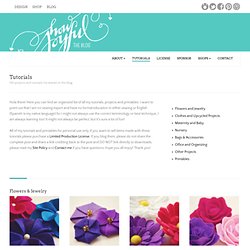 Here you can find an organized list of all my tutorials, projects and printables. I want to point out that I am no sewing expert and have no formal education in either sewing or English (Spanish is my native language) So I might not always use the correct terminology or best technique, I am always learning too! Rick Rack Rosettes. A friend gave me this flower ring and necklace, when she handed them to me I thought they were porcelain–there's a very vintage feel to them.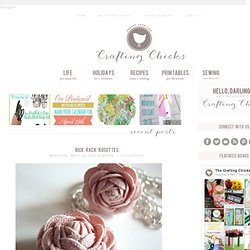 From a distance you really can't tell that they're made out of rick rack! Yes, rick rack! She shared how to make them with me, and now I'm sharing with all of you readers! The wow of the rosette comes from a few simple steps! She found this tutorial, in Portuguese I believe. 10 Beautiful Fabric Flower Tutorials | Skip To My Lou - StumbleUpon. It is spring!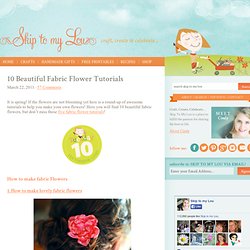 If the flowers are not blooming yet here is a round-up of awesome tutorials to help you make your own flowers! Here you will find 10 beautiful fabric flowers, but don't miss these five fabric flower tutorials! Washington DC Wedding Blog ~ DIY Origami Bouquet Tutorial | Capitol Romance. I am SUPER excited for today's DIY Wednesday tutorial feature coming to us from Lindsey of Elusive Photo Design.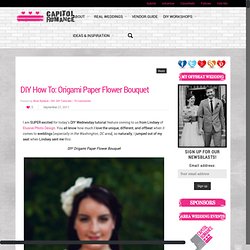 You all know how much I love the unique, different, and offbeat when it comes to weddings [especially in the Washington, DC area], so naturally, I jumped out of my seat when Lindsey sent me this: DIY Origami Paper Flower Bouquet. How to Make Ruffle Butt Undies – video tutorial. I finally got this tutorial uploaded to Youtube without problems.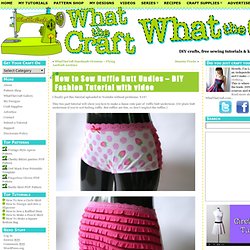 YAY! This two part tutorial will show you how to make a damn cute pair of ruffle butt underwear. (Or plain butt underwear if you're not feeling ruffly. But ruffles are fun, so don't neglect the ruffles.) Dream shrug : It's a Stitch Up: Adventures in handmade… knitting, sewing, jewellery, spinning, dyeing,crafting. Dream shrug.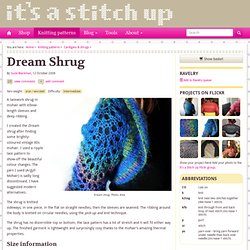 Photo: Alex A lacework shrug in mohair with elbow-length sleeves and deep ribbing. I created the Dream shrug after finding some brightly-coloured vintage 80s mohair. Project tutorial: Cristaria Shrug - Alpaca Direct News and Perspectives. Named for a pearl mussel that produces freshwater pearls, the Cristaria shrug is a quick, pretty knit shrug that complements formal summer ensembles or casual looks alike.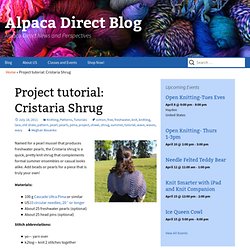 Add beads or pearls for a piece that is truly your own! Materials: Stitch abbreviations: yo— yarn overk2tog— knit 2 stitches together. Www.classiceliteyarns.com/WebLetter/45/Issue45.php. The Story: What could be a better opportunity to splurge on some amazingly lovely yarn than a wedding!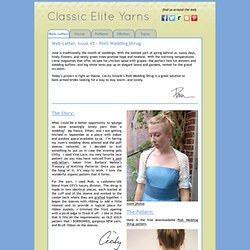 My fiancé, Ethan, and I are getting hitched in September at a place with indoor and outdoor space available to us. I'm having my mom's wedding dress altered and the puff sleeves removed, so I decided to knit something to put on in case the evening gets chilly. I used Vine Lace, my very favorite lace pattern (as you may have noticed from a past web-letter), taken from Barbara Walker's Treasury of Knitting Patterns. Loose Pearls | Loose Akoya Pearls | Loose Tahitian Pearls | Shecy Pearls. Chiffon & Lace Babydoll. Georgette Halter Babydoll.
Custom Corsets and Beautiful Burlesque Fashions by Paige. Wedding planning with You & Your Wedding. ʚϊɞ ▪ LOTD ~ Purple & Orange ▪ ʚϊɞ. A Lace Nail Tutorial | All Lacquered Up. Isabel-Cristina - Isabel-Cristina Let's Go Spray Nail Glue Activator. Custom made ladies shoe designer - Shoes of Prey. Www.heels.com/womens-shoes/my-darling-midnight-satin.html?view=quickview. Randee - Purple Satin, Badgley Mischka, $179.99 FREE 2nd Day Shipping! Carino - Dk Purple Multi, Joan and David, $134.99 FREE 2nd Day Shipping! This Joan and David Carino t- strap sandal is this seasons hottest day to night look.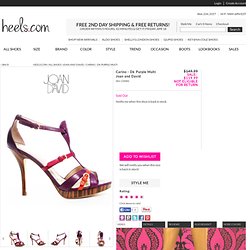 With its unique wood painted ½ inch platform, this shoe is sure to be seen from miles away. Featuring purple, orange, and magenta colored leather crisscross straps with small gold buckets and 4 inch heel. Perfect with a short mini or that long summer flowing dress. Shoe Details: Leather Upper Leather sole Made In Italy This shoe fits true to size. Argyle Tights. Simple mini top hat tutorial. Womens Nightgowns Pajama Sewing Pattern 2739 Simplicity. M5651 | Misses' Panties, Bras, Camisole and Slip | Intimates. V7009 | Bridal Accents | Accessories.
---