Instru / Matériel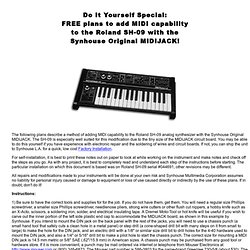 SH-09 Analog User Modifications
Do It Yourself Special:
Hop, un projet "rapide" : précisément une semaine s'est écoulée entre le moment où je l'ai commencé et le moment où je l'ai fini. Il s'agit d'une fuzz pleine de MOJO dont toute la quintessence est symbolisée par cette splendide led ROSE dominant ce design psychédélique d'un violet à faire pâlir d'envie la vache milka. Pour résumer du contenu de l'engin, le circuit est la topologie de la Tone Bender MkIII, mais avec pas mal de tweaks à ma sauce.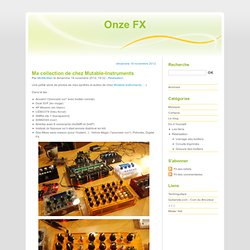 Onze FX
Music From Outer Space
Voice of Saturn Fully Assembled
glurkys_graphiks
play
Muff's Modules & More :: View topic - If you think you can be happy with one small modular rack
Des photos de vos home-studios et les discussions qui vont avec - forum Studio & Home Studio (637/2777)
DiscoFreq's Effects Database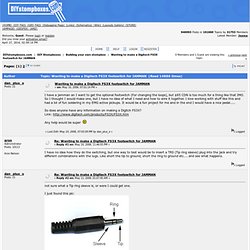 You only need SPST switches. I didn't feel like spending lots of money so I got two 2 packs of plastic SPST's and two 1N4001 diodes.
Wanting to make a Digitech FS3X footswitch for JAMMAN
Editeur MIDI
reacTIVision 1.3 et la Reactable
Captation d'objets tangibles Un logiciel pour représenter, visualiser et interagir avec des artéfacts Première publication : . Mise en ligne: 28 mai 2007 . Modifié le : 27 mai 2007 . Par Jocelyne Quelo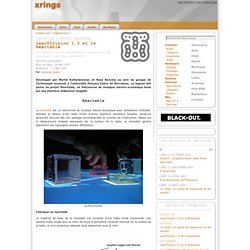 sound_quest_uni_quest.rar Des téléchargements à partir de Hotfiles, Rapidshare, et bien plus encore ! Nitro Downloads
TransSound Dynamic Microphones
- Cikira -
SieGo.NeT - Akaizone - MPC Soft
Astuce : Kick avec le mfb
View topic - Yamaha PSS-570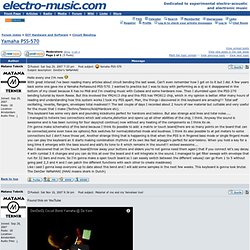 So after a year it is time to revive this topic. It's done my Yamaha.....
Episode One : Your Korg MS-2000 is a Drum Machine
Portable Mini-Lyre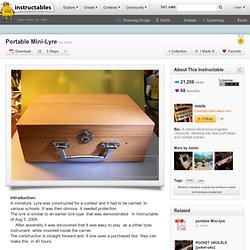 The construction of the box is minimal if one buys it at Jo-Ann"s or Micheals"s stores for about $4.00. The inside dimensions has to meet the size of the lyre component which is 3 x 7-1/2 x 2.8 in high. a larger inside of about 9 in. wide would be fine for adding a microphone.The lrye resonator box can also be purchased . The size used here is 3x 7wide x 2-1/2 high but can be longer to 5 in. and still be a lyre which is played from the front and rear.