Création ludique
Son généré sur une logique cellulaire. New!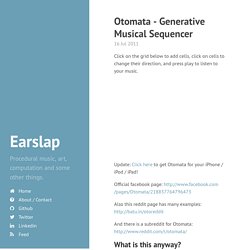 If you like Otomata, check out my new instrument Circuli by clicking here! Update: Click here to get Otomata for your iPhone / iPod / iPad! Official facebook page: Create Music Beats - The online music factory - Jam, remix, chords, loops. Pause sonore. Composer-une-melodie.swf (Objet application/x-shockwave-flash) The Virtual Piano for Songwriters, Singers, Producers and aspiring musicians. Graph Theory. Monoface. KenBrashear.com - Ken's Virtual Drumkit. [HogafflaHage] Om cookies på våra tjänster Vi använder cookies för att ge dig en bättre upplevelse av SVT:s webb.
Om cookies på barnkanalen.se Karaktärskarusell. Soundtoys for kids. Pianoparoles. Jam. Bouche à bouche. Glitchscape. Nature Sounds. Soundation — Make music online. Instrument original. Chef d'orchestre - mur de vidéos sonores. Graph Theory. 0 - chromatic - 48 tines.
Download - Psychosynth. Latest version The latest version of this software is Psychosynth 0.3.0.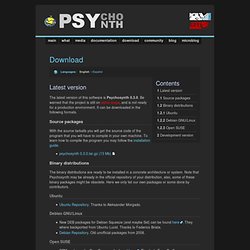 Be warned that the project is still on alpha stage, and is not ready for a production environment. Psychosynth. Music Text Composition Generator ( A free online music utility) The P22 Music Text Composition Generator allows any text to be converted into a musical composition.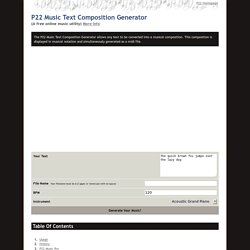 This composition is displayed in musical notation and simultaneously generated as a midi file. 1. Usage Type or copy any text into the Text Field. Ouvroir de sonorité potentielle. Rave Generator - Old Skool Fun. Muxicall. Chef orchestre. Raindrop.swf (Objet application/x-shockwave-flash) Nat Geo Music Mixer. Nature Sounds. Seaquence. Dessiner de la musique. Muxicall. Otomata. MAO Musique Assistée Par Ordinateur. Répercussion. Sonore.
---