Ampli / pédale /Effet /AUdio
I still get lots of email about beavis board availability. I guess it would be good to explain why it was discontinued and why it won't be coming back. The simple answer is: economics.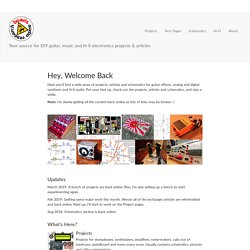 Beavis Audio Research
Electronics 2000 | Downloads - FREE software including Electronics Assistant & EPE Index Here are some programs you might find useful. Except where otherwise stated, software is written by Electronics 2000 and can be used free-of-charge. However if you find my software useful please consider making a small donation to support further development and upkeep of the site. Thanks.
Electronics Projects
PAiA Corporation - Analog Synths, Theremins, Preamps, and More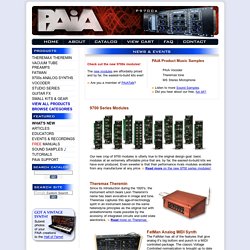 Our new crop of 9700 modules is utterly true to the original design goal: basic modules at an extremely affordable price that are, by far, the easiest-to-build kits we have ever produced. Even sweeter is that their performance rivals modules available from any manufacturer at any price. Read more on the new 9700 series modules!. Since its introduction during the 1920's, the instrument which bears Leon Theremin's name has been evocative in image and tone. Theremax captures this age-of-technology spirit in an instrument based on the same heterodyne principles as the original but with embellishments made possible by the economy of integrated circuits and solid state electronics.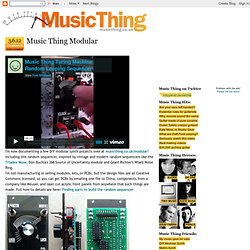 Over the last couple of years, I've spent a few evenings building DIY guitar effects. It's fun to build things that you can use. If you want to get started, one of the hardest things is buying components. Try to buy a 10Ω resistor from Farnell, and you're faced with a choice of 345 items. So, starting out buying a kit is a good idea. At least you'll know the parts are right, even if when your soldering isn't.
Links to Electronics Sites
runoffgroove.com
4ms Pedals: Kits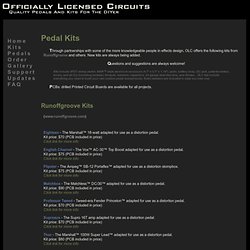 Officially Licensed Circuits - Quality Kits For The DIYer
Through partnerships with some of the more knowledgeable people in effects design, OLC offers the following kits from Runoffgroove and others. New kits are always being added. Questions and suggestions are always welcome! Kits include 3PDT stomp switch, MXR™-style aluminum enclosure (4.7" x 3.7" x 1.18"), jacks, battery snap, DC jack, potentiometers, knobs, and all ICs (including sockets), trimpots, resistors, capacitors, 24-gauge stranded wire, and diodes...
For Sale
Welcome to the GetLoFi Shop. All orders receive eConfirmation and Tracking once shipped. USPS First Class – $2.50 Priority Flat Rate Envelope – $5.50 Canada and Mexico Priority Flat Rate Envelope $14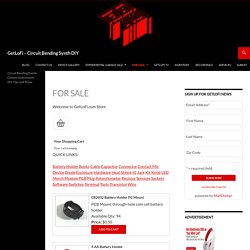 Onlineshop der UK-electronic :
Welcome in the shop of the UK-electronic. We look forward to your visit and wish You a lot of fun in our shop. We hold a variety of electronic components (active, passive, mechanical), as well as special Components for the construction of effects pedals for you. For certain selected projects there are also complete DIY kits which only need knobs and a enclosure. This section is constantly expanding.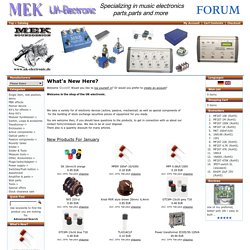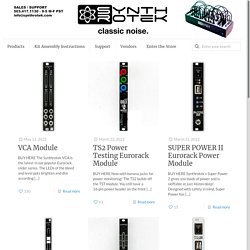 Atari Punk Console | Analog Sequencer kits | Step Sequencers
'Sequence 8′ Eurorack & 9V Battery Powered 8 Step Analog Sequencer ANNOUNCED! 'Sequence 8′ Analog Step Sequencer Hey Folks!
DIY Stompbox Parts and DIY Projects
MOD Kits DIY
Dallas Arbiter Fuzz Face
Wah Info Archive!
Index