Vergaderen
Online only: tips voor <BR> efficienter vergaderen | Coaching Magazine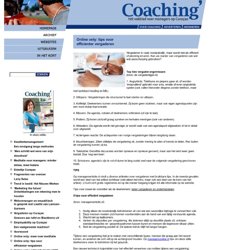 Vergaderen is vaak noodzakelijk, maar wordt niet als efficient of plezierig ervaren. Kan uw manier van vergaderen ook wel wat aanscherping gebruiken? Top tien vergader-ergernissen: (bron: de vergadertijger.nl) 1. Angrybirds: Telefoons en piepers gaan af, of worden 'onopvallend' gebruikt voor sms, emails of even angrybirds spelen (ook vallen hieronder diegene zonder telefoon, maar met lusteloze houding en blik).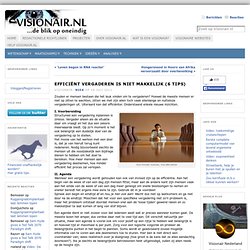 Efficiënt vergaderen is niet makkelijk (6 tips)
Zouden er mensen bestaan die het leuk vinden om te vergaderen? Hoewel de meeste mensen er niet op zitten te wachten, zitten we met zijn allen toch vaak ellenlange en nutteloze vergaderingen uit. Uiteraard kan dat efficiënter. Onderstaand enkele nieuwe inzichten. Hoe minder mensen, hoe efficiënter
Tips efficiënt & effectief vergaderen
Hoe kan ik efficiënt vergaderen?
Efficiënt Vergaderen