Vergaderen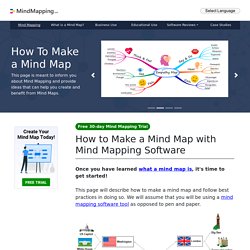 This page is meant to inform you about Mind Mapping and provide ideas that can help you create and benefit from Mind Maps What is Mind Mapping? Mind mapping is a highly effective way of getting information in and out of your brain. Mind mapping is a creative and logical means of note-taking and note-making that literally "maps out" your ideas. All Mind Maps have some things in common.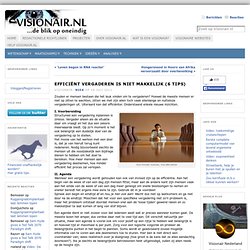 Efficiënt vergaderen is niet makkelijk (6 tips)
Zouden er mensen bestaan die het leuk vinden om te vergaderen? Hoewel de meeste mensen er niet op zitten te wachten, zitten we met zijn allen toch vaak ellenlange en nutteloze vergaderingen uit. Uiteraard kan dat efficiënter. Onderstaand enkele nieuwe inzichten. Hoe minder mensen, hoe efficiënter
Tips efficiënt & effectief vergaderen
Hoe kan ik efficiënt vergaderen?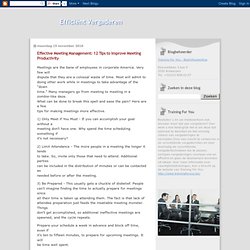 Meetings are the bane of employees in corporate America. Very few will dispute that they are a colossal waste of time. Most will admit to doing other work while in meetings to take advantage of the "down time." Many managers go from meeting to meeting in a zombie-like daze. What can be done to break this spell and ease the pain?
Efficiënt Vergaderen