InfoTech
MS Training Catalog
Prometric-MS Exam Scheduler
Certiport - MS Exam Center
MS Certification Overview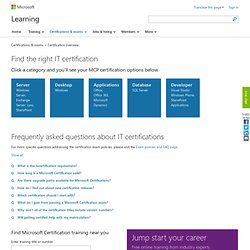 Q. What is the recertification requirement? In order to ensure that our certifications are meaningful and valuable indicators of candidates' skills, Microsoft has implemented a recertification requirement for the MCSE, MCSD, and MCSM certifications.
Professor Messer | Nov 07, 2010 | Comments 16 43 Videos – Total Running Time: 13 hours, 8 minutes Who is Professor Messer? Are all of these videos really free? Read our frequently asked questions here.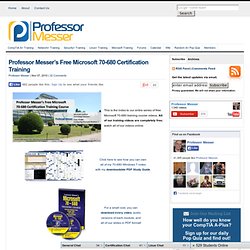 Free A+, Netwrking & MCITP Training
MS Training - Student Portal
Free Webcast Training - Experience
Experience.com
No matter the size of your team, or the complexity of your project, Visual Studio can help turn your ideas into software. Windows is reinvented with an all-new touch interface, Windows Store, and dev platform that lets you sell apps across the globe. Windows Phone is a different kind of phone. Get everything you need to design and build great apps and sell them in the new Store.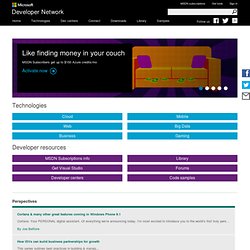 IT - Practice Exams