East
North Road Restaurant
The Modern Pantry – Restaurant Clerkenwell, Café and Deli Farringdon London
Albion Cafe, Bakery and Food Store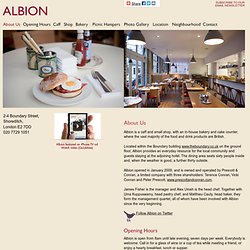 Albion is a caff and small shop, with an in-house bakery and cake counter, where the vast majority of the food and drink products are British. Located within the Boundary building www.theboundary.co.uk on the ground floor, Albion provides an everyday resource for the local community and guests staying at the adjoining hotel. The dining area seats sixty people inside and, when the weather is good, a further thirty outside.
Pizza East pizzeria and pizza restaurant in Shoreditch east London
Mien Tay - Shoreditch | Cuisine from South-West Vietnam | Home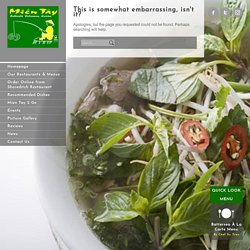 Welcome to our original restaurant in Shoreditch. We opened in this Vietnamese area or as some say the 'Pho Mile' in January 2008. Since opening this venue has become very popular for local lunches and late night eating - on Thursday, Friday and Saturday we are bursting with happy laughing groups of friends enjoying plenty to eat and drink. We became so popular we had to move in to the restaurant next door but don't be surprised if you still have to queue, we try hard to accommodate our customers and we'll squeeze you in eventually. Our restaurant is named Mien Tay after the area of South Vietnam from which our family originates.
The Dovetail
St. JOHN, St. JOHN Restaurant Smithfield, St. JOHN Bread & Wine Spitalfields, London dining, nose to tail eating, london restaurant
The Gun | Public House In Docklands London : Pub In East London, UK
Needoo
New Tayyabs