Webdev
All the best and recommended apps straight to your inbox. Backup, sync, and share files easily Radio that finds music based on your taste. A first-person shooter browser plugin-based video game Bringing People From Around The World Closer Together...One conversation at a ti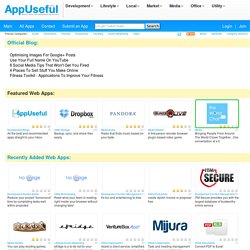 AppUseful | Web 2.0 Applications Directory. User Reviews of the
12 Websites for Discovering New Desktop and Web Apps | Web Desig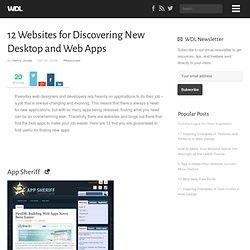 Everyday web designers and developers rely heavily on applications to do their job – a job that is always changing and evolving. This means that there's always a need for new applications, but with so many apps being released, finding what you need can be an overwhelming task. Thankfully there are websites and blogs out there that find the best apps to make your job easier. Here are 12 that you are guaranteed to find useful for finding new apps. App Sheriff
SitePal is an easy-to-use service that allows you to create a speaking avatar for your website and empower your online communication. Features Include Upload your photo Over 250 customizable stock avatars Record your own voice or use built-in Text-To-Speech in multiple languages Unlimited audio & avatar updates Add an image or video background Built-in lead collection, FAQ, AI chat Publish to HTML page, Flash, emails Compatible with all server technologies Programming skills not required API for advanced users SitePal is a fun and powerful tool. Create your SitePal today and enhance your website!
Avatars - Create an Animated Talking Character for Your Website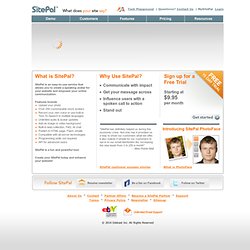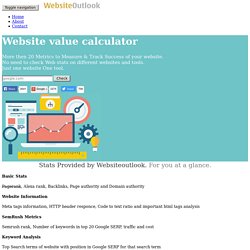 About WebsiteOutlook Websiteoutlook is the perfect place to evaluate any website. When choosing to buy or sell a website having the proper information about your investment can be crucial to your success. Websiteoutlook is dedicated to finding all pertinent information that may pertain to your personal interest.
21 Ways Volunteers Can Help with Your Website | Talance Friendly
[Photo credit: AVP Volunteer 2 by yuan2003, on Flickr] As any charitable organization knows, volunteers are superstars. They give love and expertise and don't ask for a dime in return. They can be especially helpful if your organization has a website.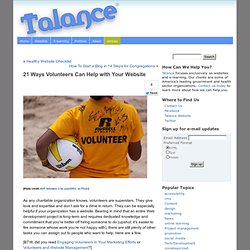 SAP Business One | Business Software by Orchestra Team
We've talked to literally hundreds of small and large breweries alike in the last few years. About 99% of those breweries said they were running QuickBooks - and for good reason. QuickBooks is easy to use, it's cheap, and the interface is fantastic with all those pretty buttons that inspire a sense of accomplishment when you click them.
DigitalBeat | VentureBeat
ASP.NET CMS .NET Features Page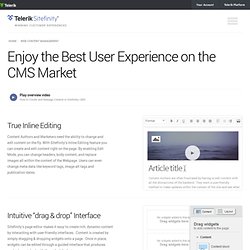 Centrally Manage Multiple Sites Sitefinity's multisite management makes it easy for organizations to manage a collection of websites and microsites through a centralized interface. Content authors can easily contribute to multiple websites, or utilize content from other websites. Users, roles, content, permissions, templates, images, and more can be effortlessly shared or synchronized between sites. Learn more about Multisite Management.
joycevalenzaworkshop - home
sigilt - Favorite Web 2.0 Tools
The web design, web hosting, web development, e-commerce and int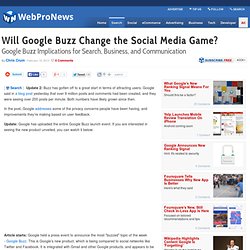 Will Google Buzz Change the Social Media Game?
Update 2: Buzz has gotten off to a great start in terms of attracting users. Google said in a blog post yesterday that over 9 million posts and comments had been created, and they were seeing over 200 posts per minute. Both numbers have likely grown since then. In the post, Google addresses some of the privacy concerns people have been having, and improvements they're making based on user feedback. Update: Google has uploaded the entire Google Buzz launch event. If you are interested in seeing the new product unveiled, you can watch it below:
0 Comments January 5, 2010 By: Tech Learning Blog Staff Jan 5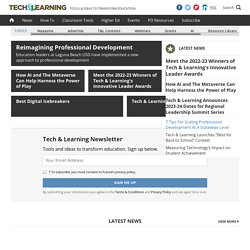 Interop - IT Expo and Conference - Global Events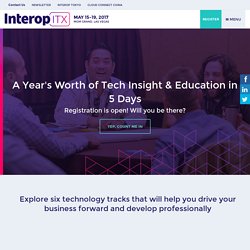 Download the Workshop, Conference, and Open to All Session Slides. Visit the ExpoSee the latest products and services on the Expo Floor.Welcome Reception: Tuesday 4:30-7:00 PM Booth Crawl: Wednesday 3:30-5:00 PM See the KeynotesHear inspirational and industry-centric keynotes from the main stage at Interop Las Vegas. Videos will be available after the event. Get the AppThe Interop Mobile App contains the most current agenda, Expo Map, and is the best way to connect with attendees & exhibitors.
Sitemasher - The Complete Website Platform for Service Providers
Interconnected Web Strategy
Ultimate Online Tools Collection for Web Development
Today we begin Part 1 of an 8-Part series on building a web application from absolute scratch to a complete product. I am going to kick things off by introducing the idea, and then I will be handling the design, UI, and general front-end stuff. We are going to be going back and forth from here over to my friend Jason Lengstorf's site Copter Labs. Jason will be handling the back-end stuff like application planning and database stuff.
Meet the 10K Apart Winners by Nishant Kothary on Oct 13, 2011 in News Two months ago, we announced the second 10K Apart contest — The Responsive Edition — in partnership with our friends at An Event Apart. Today, after much deliberating, we are proud to announce the very deserving, incredibly inspiring, and mind-numbingly clever winners. Check them out on the 10K site. To give you a little background, Read More…