Web2.0
This guide will teach you to be as tech-savvy as your students. It is meant to acquaint you with Google Apps' major features and is loaded with best practices and lots of helpful, actionable tips to optimize your investment in Google Apps and improve your students' learning experience. It's appropriate for school IT admins, teachers, principals, and anyone else interested in learning more about Google Apps for education. Start implementing these tips today! Gmail Using Gmail, you can easily send messages to students & parents.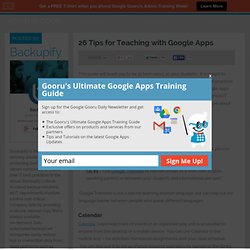 26 Tips for Teaching with Google Apps
Showcase
The Internet is evolving, and Web 2.0 is changing the way we interact online. This web guide will help those new to social media gain an understanding of social networking, social bookmarking, social news, personalized start pages, wikis, widgets and other aspects of the new Internet that can help in connecting with others, increasing productivity or having more fun. Web 2.0 Web 2.0 represents the evolution of the web from a social tool to an integrated part of our society and the world. But while it has become the buzzword of the decade, it is still often misunderstood.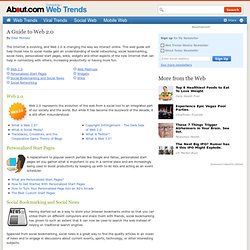 Web 2.0 Guide - A Guide to Web 2.0
Synergy Web Platform - Content Management System For Small to Mi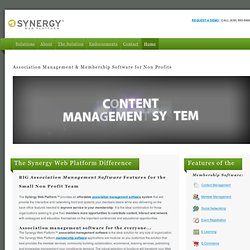 BIG Association Management Software Features for the Small Non Profit Team The Synergy Web Platform™ provides an affordable association management software system that will provide the interactive and networking front end systems your members desire while also delivering on the back-office features needed to improve service to your membership. It is the ideal combination for those organizations seeking to give their members more opportunities to contribute content, interact and network with colleagues and education themselves on the important conferences and educational opportunities. Association management software for the everyone... The Synergy Web Platform™ association management software is the ideal solution for any size of organization.
With Wall Street's recent decline and the economy in such an uncertain place, many people are fearful of losing their jobs and lifelong investments. There are countless simple online services and tools dedicated to helping you take control of these elements. We've put together a list of over 200 to help you do everything from manage your personal and professional finances to find a job in your given field, get discounts at local and online stores, and much more.
200+ Tools for Surviving the Economic Crisis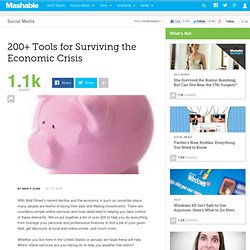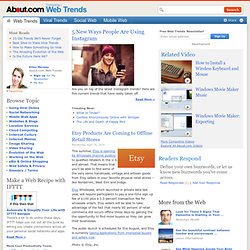 This summer, Etsy is opening its Wholesale channel publicly to qualified retailers in the U.S. and abroad. That means that you'll be able to find some of the very same handmade, vintage and artisian goods from Etsy sellers in your favorite physical retail stores -- like Nordstrom, West Elm and Indigo. Etsy Wholesale, which launched in private beta last year, will require participants to pay a one-time sign up fee of $100 plus a 3.5-percent transaction fee for whoesale orders.
Solutions | Cortera
Quickly and easily append new, hard-to-find data and insights about your customers, prospects and suppliers. Boost is a web-based, self-service solution that makes waiting days or weeks for your file to be returned by a list vendor or credit bureau a thing of the past. In a few simple steps, Boost delivers the data elements finance and credit professionals need to efficiently reduce revenue risk by gaining deep insight into a company's overall financial health. Simultaneously, Boost delivers the never-before-available business behavior data sales and marketing professionals have long needed to improve marketing conversion rates and sales closure rates by knowing which companies to target. Learn More »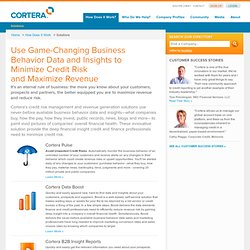 companyintoweb.pdf (application/pdf Object)
Here are the 15 Most Popular Web 2.0 Websites as derived from our eBizMBA Rank which is a constantly updated average of each website's Alexa Global Traffic Rank, and U.S. Traffic Rank from both Compete and Quantcast."*#*" Denotes an estimate for sites with limited data. 1 | YouTube3 - eBizMBA Rank | 1,000,000,000 - Estimated Unique Monthly Visitors | 4 - Compete Rank | 2 - Quantcast Rank | 3 - Alexa Rank | Updated: April 1, 2014. The Most Popular Web 2.0 Sites | eBizMBA 2 | Wikipedia10 - eBizMBA Rank | 475,000,000 - Estimated Unique Monthly Visitors | 8 - Compete Rank | 16 - Quantcast Rank | 6 - Alexa Rank | Updated: April 1, 2014. The Most Popular Web 2.0 Sites | eBizMBA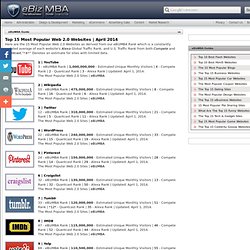 Top 15 Most Popular Web 2.0 Websites
Web Based Education Tools.xls
Part Two: Below is a list of crowd sourced web based education tools that are considered of education value by the eduTwitter community. The question is have you got access to them in your education authority / school? Can you help fill in the form with a YES or a NO. If it's more complicated than that insert a comment in the field. If you are based outside of Scotland and want to take part – just add an extra column at the end of the table.
Web Based Education Tools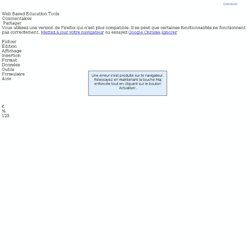 Discover a new world... Cloudworks