Web2.0
This guide will teach you to be as tech-savvy as your students. It is meant to acquaint you with Google Apps' major features and is loaded with best practices and lots of helpful, actionable tips to optimize your investment in Google Apps and improve your students' learning experience. It's appropriate for school IT admins, teachers, principals, and anyone else interested in learning more about Google Apps for education. Start implementing these tips today! Gmail Using Gmail, you can easily send messages to students & parents.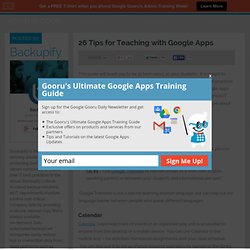 26 Tips for Teaching with Google Apps
Showcase
The Internet is evolving, and Web 2.0 is changing the way we interact online.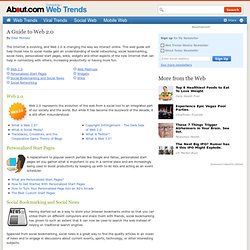 Web 2.0 Guide - A Guide to Web 2.0
Synergy Web Platform - Content Management System For Small to Mi
With Wall Street's recent decline and the economy in such an uncertain place, many people are fearful of losing their jobs and lifelong investments. There are countless simple online services and tools dedicated to helping you take control of these elements. We've put together a list of over 200 to help you do everything from manage your personal and professional finances to find a job in your given field, get discounts at local and online stores, and much more.
200+ Tools for Surviving the Economic Crisis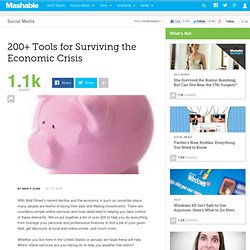 Solutions | Cortera
Automatically monitor the business behavior of an unlimited number of your customers and receive alerts on any changes in their behavior which could create revenue risks or upsell opportunities. You'll be alerted daily of any changes to your customers' purchase behavior –what they buy, how they pay, material news, bankruptcy, liens, judgments and more - covering 20 million private and public companies. Pulse also enables you to find "Lookalikes"—companies that look and act like your current customers.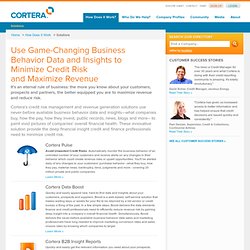 companyintoweb.pdf (application/pdf Object)
Here are the 15 Most Popular Web 2.0 (User Generated Content) Websites as derived from our eBizMBA Rank which is a constantly updated average of each website's Alexa Global Traffic Rank, and U.S. Traffic Rank from both Compete and Quantcast . "*#*" Denotes an estimate for sites with limited Compete or Quantcast data .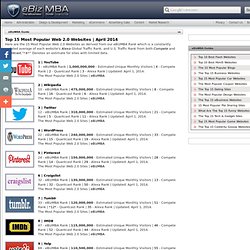 Top 15 Most Popular Web 2.0 Websites
Web Based Education Tools.xls
Web Based Education Tools
Discover a new world... Cloudworks