Unsorted_Bookmarks 2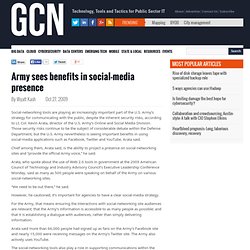 Army sees benefits in social-media presence -- Government Comput
Army sees benefits in social-media presence Online social-networking tools play role in Army's communications strategy Social-networking tools are playing an increasingly important part of the U.S.
Work Literacy - Web 2.0 for Learning Professionals
Company Search Results
loading the help center... <div class="noscript center"> Sorry, Javascript is required for the help center.<br /><meta http-equiv="refresh" content="5; url=/app/utils/log_error/et/0/ec/6/callback/http%3A%2F%2Fhelp.linkedin.com%2Fapp%2Fanswers%2Fdetail%2Fa_id%2F35227%2Ffrom_auth%2Ftrue">You will automatically be forwarded to your destination in 5 seconds, or click <a href="/app/utils/log_error/et/0/ec/5/callback/http%3A%2F%2Fhelp.linkedin.com%2Fapp%2Fanswers%2Fdetail%2Fa_id%2F35227%2Ffrom_auth%2Ftrue">here</a> to continue. </div> Powered By Oracle As of January 31, 2013, the LinkedIn Answers feature will be retired from LinkedIn.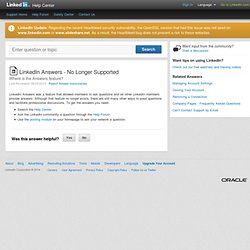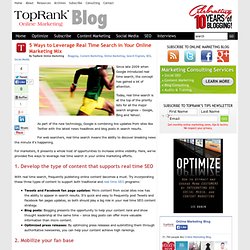 Since late 2009 when Google introduced real time search, the concept has gained a lot of attention. Today, real time search is at the top of the priority lists for all the major search engines – Google, Bing and Yahoo!. As part of the new technology, Google is combining live updates from sites like Twitter with the latest news headlines and blog posts in search results.
Real Time Search & SEO for Your Online Marketing Mix - Onlin
Maslow's Hierarchy of Enterprise 2.0 ROI | CloudAve
You may be familiar with Maslow's Hierarchy of Needs . It's a theory Abraham Maslow proposed in 1943, that provides a pecking order of human needs. At the bottom of the pyramid are physiological needs: breathing, food water, etc. The fundamentals needed for basic survival. The needs then climb the pyramid, becoming more intangible as one goes along: safety, love/belonging, esteem, self-actualization. The theory's structure of moving from tangible/tactical needs to those that are intangible and more impactful is actually well suited for another purpose.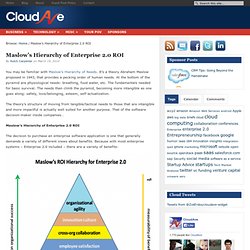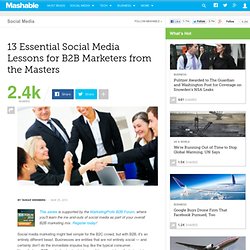 This series is supported by the MarketingProfs B2B Forum , where you'll learn the ins-and-outs of social media as part of your overall B2B marketing mix. Register today ! Social media marketing might feel simple for the B2C crowd, but with B2B, it's an entirely different beast.
The barrier for getting started with social media is low, it's dependent on your involvement level, objectives and goals. The facilitators of the message, our tools, are the key components that make it all work. They are the tools in our digital toolkit that every strategist, marketer and PR professional should already be learning and using. The sole purpose of these tools are to; create, manage and distribute content, build awareness, drive traffic, connect with our customers and hopefully turn a lead into a prospective sale.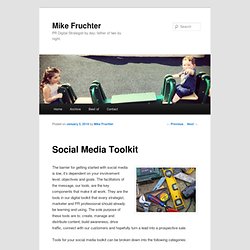 Social Media Toolkit
MediaShift . 9 Tools to Help Live-Stream Your Newsroom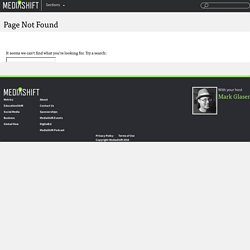 9 Tools to Help Live-Stream Your Newsroom by Roland Legrand , March 11, 2010 Tagged: eurasia-media , fnr , livestreaming , posterous , russia , second life , tumblr "We'd like to write blog posts, but don't have time." That's the oft-heard lament in newsrooms.
March 30, 2010 Adam Vincenzini says: Hi Cindy I use a few methods to collect post during the year.
40 of the Most Useful Social Media and PR Blog Posts of Q1, 2010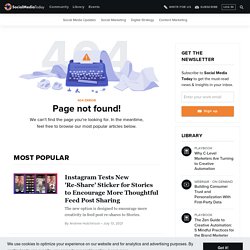 new book – 'Getting Organized in the Google Era' | my mind on bo
fcp10-1 - Web 2.0
Acmecolation Flat Cl assroom Ning | Instructions for this Page | Help Wiki | Flat Classroom Wiki Examples | Timeline | Main Flatclassroom Project Page | Conference | Video Help Go to the accompanying wiki to view **Student final videos** Videos have been created in the following categories: Group A: The Story Group B: Innovation, Invention (Design) Group C: Social Entrepreneurship Group D: First Person Narrative (Empathy) Group E: Group Stories (Symphony) Group F: How We Live (Play)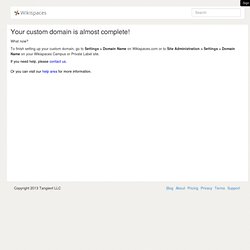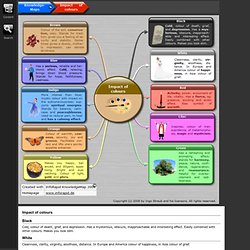 InfoRapid KnowledgeMaps - Impact of colours
Impact of colours Black Cold, colour of death, grief, and depression. Has a mysterious, obscure, inapproachable and interesting effect. Easily combined with other colours.
Do not go where the path may lead; go instead where there is no path and leave a trail. ~ Ralph Waldo Emerson I spent the better part of the first 40-years of my life looking for a guru, that person who would just blow me away with her or his prescience, kindness, compassion, vision and guidance. The one who would give me the answers.
Be Your Own Guru
Is Social CRM The Key To Innovation? « Effective CRM
As I write this post, there are over 280 people who claim to be "thought leaders" in their Twitter biography. It's certainly a popular label, but I'm pretty certain they haven't all earned the title. Why? In the 20 years I've spent helping clients develop content, I've noticed a critical (though perhaps blindingly obvious) fact. It's pretty hard to become a thought leader.
Top 10 Hurdles to Becoming a B2B Thought Leader…and the Secrets
As someone who works with social media managers and community managers, it seems the line between the two types of positions is not terribly clear – and maybe doesn't need to be – but I think it would be helpful to distinguish between the two. Why? Jim will often say that everyone is a community manager and he is right – everyone has a group of constituents which could be cultivated to drive better performance.
Differentiating Between Social Media and Community Management
Harness Your Subconscious Wisdom by Asking The Right Questions -
Ha, gotcha! That is just one of many, many questions that have nothing whatsoever to do with this article. We'll look at how such questions literally poison your mind.
The Myth of the Strong Center
At the height of the foreclosure crisis the problems experienced by some so-called "sprawl" markets, like Phoenix and San-Bernardino-Riverside, led some observers to see the largest price declines as largely confined to outer ring suburbs. Some analysts who had long been predicting (even hoping for) the demise of the suburbs skipped right over analysis to concoct theories not supported by the data. The mythology was further enhanced by the notion – never proved – that high gas prices were forcing home buyers closer to the urban core.
Google vs. Yahoo: Who Has the Right Social Strategy?
The E. F. Schumacher Society • Library