Od
Organization development. Organization development (OD) is a deliberately planned, organization-wide effort to increase an organization's effectiveness and/or efficiency and/or to enable the organization to achieve its strategic goals.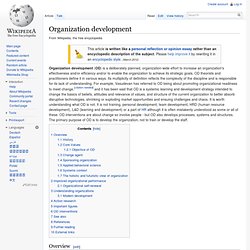 OD theorists and practitioners define it in various ways. Its multiplicity of definition reflects the complexity of the discipline and is responsible for its lack of understanding. Other Group Resources. CGL Home | Mailing list | Join | Humor What/Who is CGL?
| Other Group Resources Highlighted sections have the most-recently updated resources. Organizational Complexity Network | orgcomplexitynet.groupsite.c. Organizational Complexity Network orgcomplexitynet.groupsite.com Welcome to the Groupsite for Organizational Complexity Network.
Groupsites are a new class of websites that empower people to come together and make things happen. Groupsites are powered by Groupsite.com and combine the most useful features of traditional websites, blogs, collaboration software and social networks.
---