Od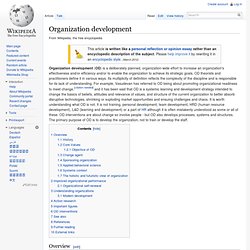 Organization development ( OD ) is a deliberately planned effort to increase an organization's relevance and viability. Vasudevan has referred to OD as, future readiness to meet change [ citation needed ] , thus a systemic learning and development strategy intended to change the basics of beliefs, attitudes and relevance of values, and structure of the current organization to better absorb disruptive technologies, shrinking or exploding market opportunities and ensuing challenges and chaos. OD is the framework for a change process designed to lead to desirable positive impact to all stakeholders and the environment.
Organization development
Other Group Resources
CGL Home | Mailing list | Join | Humor What/Who is CGL? | Other Group Resources Highlighted sections have the most-recently updated resources.
IllustratorOrganisationalHealth3.pdf (application/pdf Object)
Organizational Complexity Network orgcomplexitynet.groupsite.com Welcome to the Groupsite for Organizational Complexity Network. Groupsites are a new class of websites that empower people to come together and make things happen. Groupsites are powered by Groupsite.com and combine the most useful features of traditional websites, blogs, collaboration software and social networks.
Organizational Complexity Network | orgcomplexitynet.groupsite.c