technology
Get flash to fully experience Pearltrees
If you're a student with classes, homework, and projects–not to mention your social life–time is truly at a premium for you, so why not latch onto the wide world that Google has to offer?
: A small revolution has taken place over the past two years in the way capital markets firms, especially buy-side firms, buy and use software. Rather than purchase and install programs, they've grown increasingly willing to rent applications from the software vendor or a third party and to let someone else host and support it for a monthly subscription fee; users log in and access the software over the Internet. This is variously called "software as a service" (SaaS), "hosted software" or the "application service provider model" (although some say "ASP" is an old-school '90s term), and it changes the game for internal IT departments.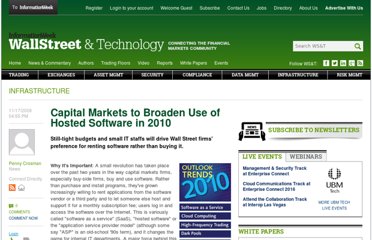 Updated September 2012 I'm often asked for what tools and services I use and personally recommend.