Statistics
Landmass and population chart. Public data. Indicateurs de développement humain Rapport sur le développement humain 2013, Programme des Nations Unies pour le développement Les données utilisées pour calculer l'Indice de développement humain (IDH) et autres indices composites présentés dans le Rapport sur le développement humain ...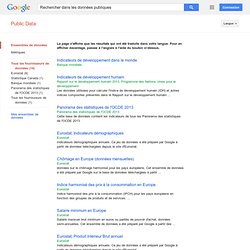 Eurostat, Indicateurs démographiques. YourEconomy.org. STATS Indiana: Tools. Visualizing data through maps is important.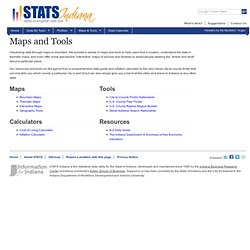 We provide a variety of maps and tools to help users find a location, understand the data in thematic maps, and even offer some specialized "interactive" maps of schools and libraries to assist people seeking the "where and what" about a particular place. Our resources and tools run the gamut from a comprehensive data guide and inflation calculator to the very handy city-to-county finder that not only tells you which county a particular city is part of but can also simply give you a list of all the cities and towns in Indiana or any other state. Dashboard.
---