Software
This information has moved to www.cmmiinstitute.com. As part of its mission to transition mature technology to the software community, the SEI has transferred CMMI-related products and activities to the CMMI Institute, a 100%-controlled subsidiary of Carnegie Innovations, Carnegie Mellon University's technology commercialization enterprise. The CMMI Institute will conduct CMMI training and certification, sponsor conferences and classes, and provide information about CMMI process improvement models and appraisals. The SEI will continue to pioneer and advance new research in the field of software process management. More information about our current work is available at http://www.sei.cmu.edu/process.
U Tech Tips Site Updates - U Tech Tips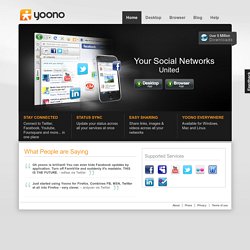 STAY CONNECTED Connect to Twitter, Facebook, Youtube, Foursquare and more... in one place STATUS SYNC Update your status across all your services at once EASY SHARING Share links, images & videos across all your networks YOONO EVERYWHERE Available for Windows, Mac and Linux. Supported Services Facebook MySpace YouTube Twitter Flickr FriendFeed LinkedIn MSN AIM GTalk Yahoo Chat Foursquare Click Allow Button Above from Firefox Click Install Now After downloading, Restart Firefox Sorry, Yoono currently only supports Firefox 2 and later and Internet Explorer 7 and later though we plan on supporting more browsers in the future!
Sales Enablement and Sales Effectiveness Practices -
Who We Are SAVO is the market leader in sales enablement. Our SaaS solution uses the power of content management, team selling, RFP/proposal automation, mobility and analytics to harness company-wide knowledge to support selling.
Marketing Tools for Marketing Planning Marketing is often misunderstood. Everyone defines it differently, and there are so many moving parts--it's nearly impossible to know every solution or possibility. How do you know what types of campaigns to run? What media will be most effective?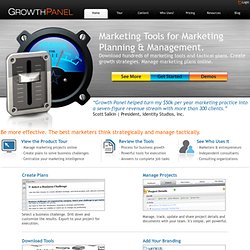 Growth Panel: Marketing Planning Tools for Marketing Management
Social Software Resources (Dachis Group Social Software Wiki)
Discover Action Apps | Social Actions