Semanticweb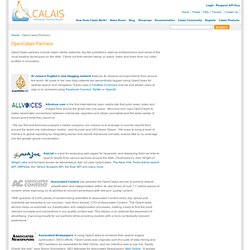 Partners
OpenCalais partners include major media networks, top-tier publishers, start-up entrepreneurs and some of the most creative developers on the Web. Check out their stories below, or watch, listen and learn from our video profiles in innovation. Al Jazeera English's new blogging network features Al Jazeera correspondents from around the world. All posts in the new blog network are semantically tagged using OpenCalais for optimal search and navigation. It also uses a Creative Commons license and allows users to sign-in to comment using Facebook Connect , Twitter or OpenID . Allvoices.com is the first international open media site that pulls news, video and images from across the globe into one place.
Popego | We Build Meaning
Semantic Web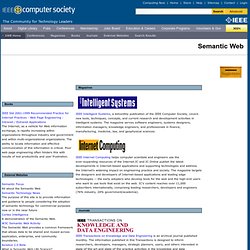 IEEE Intelligent Systems , a bimonthly publication of the IEEE Computer Society, covers new tools, techniques, concepts, and current research and development activities in intelligent systems. The magazine serves software engineers, systems designers, information managers, knowledge engineers, and professionals in finance, manufacturing, medicine, law, and geophysical sciences. IEEE Internet Computing helps computer scientists and engineers use the ever-expanding resources of the Internet.IC and IC Online publish the latest developments in Internet-based applications and supporting technologies and address the Internet's widening impact on engineering practice and society.
A large percentage of content that users deal with on a daily basis is created by other users. Every minute more than 90,000 videos and images are uploaded to YouTube, Flickr and other social media websites, yet this represents a relatively small revenue percentage when compared with traditional media. We believe that one reason for this is the publisher's lack of ability to understand high density content that lacks the adequate description. With mobile platforms providing users with easy methods for rich media upload, this problem will rapidly increase. Tags are an attempt to mitigate this problem. They allow users an easy way to label content with the labels that make sense to them.
Bueda API Turns Tags into RDF URIs - Blog - Semantic Focus - The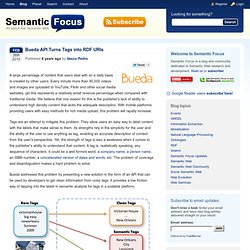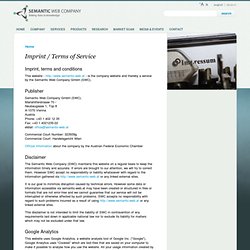 Imprint, terms and conditions This website - http://www.semantic-web.at - is the company website and thereby a service by the Semantic Web Company GmbH (SWC). Publisher
About SWC - Semantic Web, Semantische Technologien, Web 2.0, Web
Knowledge Media Institute | The Open University
"The Semantic Web is an extension of the current web in which information is given well-defined meaning, better enabling computers and people to work in cooperation" (Berners-Lee et al., 2001). Our research in the Semantic Web area looks at the potentials of fusing together advances in a range of disciplines, and applying them in a systemic way to simplify the development of intelligent, knowledge-based web services and to facilitate human access and use of knowledge available on the web. For instance, we are exploring ways in which tnatural language interfaces can be used to facilitate access to data distributed over different repositories. We are also developing infrastructures to support rapid development and deployment of semantic web services, which can be used to create web applications on-the-fly.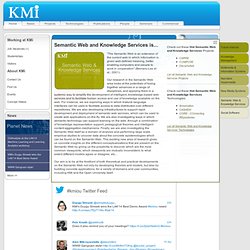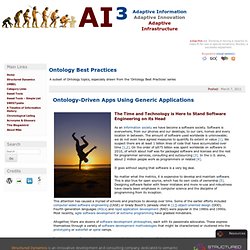 Ontology Best Practices
As an information society we have become a software society. Software is everywhere, from our phones and our desktops, to our cars, homes and every location in between. The amount of software used worldwide is unknowable; we do not even have agreed measures to quantify its extent or value [1] . We suspect there are at least 1 billion lines of code that have accumulated over time [1 , 2] . On the order of $875 billion was spent worldwide on software in 2010, of which about half was for packaged software and licenses and the rest for programmer services, consulting and outsourcing [3] . In the U.S. alone, about 2 million people work as programmers or related [4] .
Part 1 – Understanding The Semantic Value Proposition The term "Semantic Web" has developed some interesting yet confusing connotations since it was first introduced in the early 2000's. Those misconceptions include but are not limited to: The notion that the associated technologies and practices are only applicable to web applications or the Internet in general.
Understanding The Semantic Value Proposition
Semantech Inc. Welcome Page
semantic data integration system overview - expressor
Alitora.com
Semantics – Semantic Web – Web 3.0 – Semantic Universe
The Semantic Puzzle | Open World Assumptions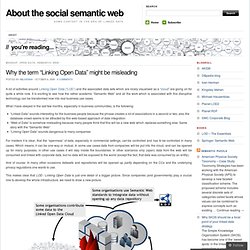 A lot of activities around Linking Open Data ("LOD") and the associated data sets which are nicely visualised as a " cloud " are going on for quite a while now. It is exciting to see how the rather academic "Semantic Web" and all the work which is associated with this disruptive technology can be transformed now into real business use cases. What I have obeyed in the last few months, especially in business communities, is the following: "Linked Data" sounds interesting for the business people because the phrase creates a lot of associations in a second or two; also the database crowd seems to be attracted by this web-based approach of data integration "Web of Data" is somehow misleading because many people think that this will be a new web which replaces something else. Same story with the "Semantic Web" "Linking Open Data" sounds dangerous to many companies
Why the term "Linking Open Data" might be misleading « About the