Reference
OED Appeals Do you have an earlier record of a word which our editors are currently researching? Take a look at our recent appeals and submit your evidence. Learn more about the history of the OED Appeals in this article by Associate Editor Peter Gilliver.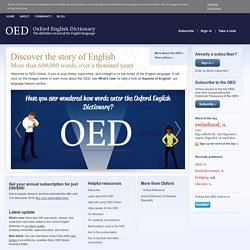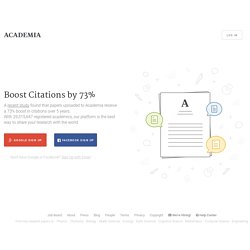 Independent Researcher
Type to search for People, Research Interests and Universities Searching... Join a growing community of 9,106,840 academics Academia.edu is a place to share and follow research Share your papers
advanced search Welcome to the Educator's Reference Desk The Educator's Reference Desk builds on over a quarter century of experience providing high-quality resources and services to the education community. From the Information Institute of Syracuse, the people who created AskERIC, the Gateway to Educational Materials, and the Virtual Reference Desk, the Educator's Reference Desk brings you the resources you have come to depend on. 2,000+ lesson plans, 3,000+ links to online education information, and 200+ question archive responses. Counseling Peer Education Programs , Therapy , more... Educational Levels K-12 Education , Higher Education , more...
The Educator's Reference Desk: Resource Guides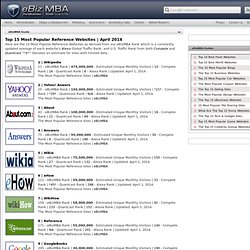 Here are the 15 Most Popular Reference Websites as derived from our eBizMBA Rank which is a constantly updated average of each website's Alexa Global Traffic Rank, and U.S. Traffic Rank from both Compete and Quantcast."*#*" Denotes an estimate for sites with limited data. 1 | Wikipedia11 - eBizMBA Rank | 475,000,000 - Estimated Unique Monthly Visitors | 10 - Compete Rank | 16 - Quantcast Rank | 6 - Alexa Rank | Updated: April 1, 2014.
London Library: Electronic Library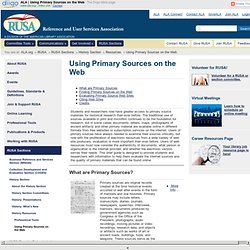 Primary sources are original records created at the time historical events occurred or well after events in the form of memoirs and oral histories. Primary sources may include letters, manuscripts, diaries, journals, newspapers, speeches, interviews, memoirs, documents produced by government agencies such as Congress or the Office of the President, photographs, audio recordings, moving pictures or video recordings, research data, and objects or artifacts such as works of art or ancient roads, buildings, tools, and weapons. These sources serve as the raw material to interpret the past, and when they are used along with previous interpretations by historians, they provide the resources necessary for historical research.
ALA | Using Primary Sources on the Web
Research Guides
Consulting