Productivity
Mind Maps/Thinking Maps/Graphic Organizers
The nature of business is inexorably changing. The changes are being driven by a number of factors: ranging from the need to compete differently after the recession, through the availability of huge volumes of new information, to the rapidly growing influence of social customers. I would almost go as far to say that we are fast approaching a period of 'Business Enlightenment', based not so much on the linear thinking that drove the Enlightenment in the 18th Century, as on networked, emergent thinking which is driving so much new thinking in the 21st.
A Manifesto for Social Business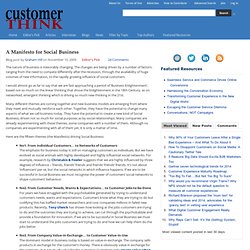 Conglomeration of Interesting Sites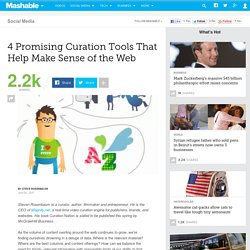 Steven Rosenbaum is a curator, author, filmmaker and entrepreneur. He is the CEO of Magnify.net, a real-time video curation engine for publishers, brands, and websites. His book Curation Nation is slated to be published this spring by McGrawHill Business. As the volume of content swirling around the web continues to grow, we're finding ourselves drowning in a deluge of data. Where is the relevant material?
Topics du Jour is a powerful journaling technique you can use to review, plan and put your life in perspective within no more than 5 or 10 minutes of your day. Here's how it works: Number down a page from 1 to 30.
Topics du Jour: Give Your Life Direction in Less than 10 Minutes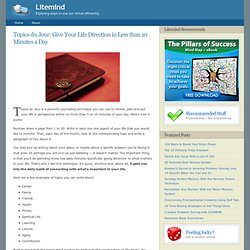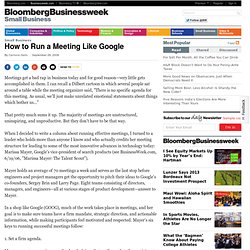 Meetings get a bad rap in business today and for good reason—very little gets accomplished in them. I can recall a Dilbert cartoon in which several people sat around a table while the meeting organizer said, "There is no specific agenda for this meeting. As usual, we'll just make unrelated emotional statements about things which bother us…" That pretty much sums it up.
Scheduling made Easy
"The proper function of man is to live – not to exist." — Jack LondonToo often we go through life on autopilot, going through the motions and having each day pass like the one before it.That's fine, and comfortable, until you have gone through another year without having done anything, without having really lived life.That's fine, until you have reached old age and look back on life with regrets. That's fine, until you see your kids go off to college and realize that you missed their childhoods. It's not fine. If you want to truly live life, to really experience it, to enjoy it to the fullest, instead of barely scraping by and only living a life of existence, then you need to find ways to break free from the mold and drink from life. What follows is just a list of ideas, obvious ones mostly that you could have thought of yourself, but that I hope are useful reminders. We all need reminders sometimes.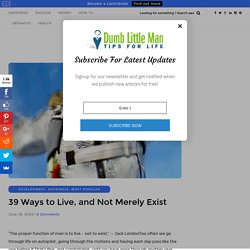 Online Appointment Scheduling Made Easy