Opencourseware
Innovation Timeline.
The World's 50 Best Open Courseware Collections. Do you ever wonder why the Massachusetts Institute of Technology (MIT) might be more memorable than other technological schools?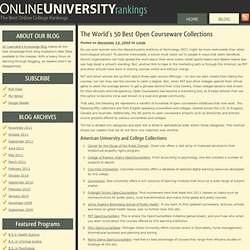 To become memorable, a school must reach out to people in ways that seem beneficial. Alumni organizations can help spread the word about their alma mater. Knowledge Mapping QuickStart Guide - OpenLearn - The Open Univer. University of the People – The world's first tuition-free, onlin.
---