Opencourseware
Innovation Timeline
Do you ever wonder why the Massachusetts Institute of Technology (MIT) might be more memorable than other technological schools? To become memorable, a school must reach out to people in ways that seem beneficial. Alumni organizations can help spread the word about their alma mater.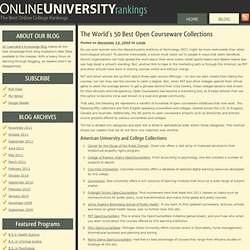 University of the People – The world's first tuition-free, onlin
*At this time, due to US regulatory requirements, University of the People is unable to accept applications for admission from applicants residing in the following states: Alabama, Arkansas, Illinois, Indiana, Iowa, Maryland, Minnesota, Missouri, Montana, Oregon,Texas, Utah, Wisconsin, Wyoming. UoPeople is able to effectively function on a limited budget without sacrificing quality of education by using a collaborative learning model and harnessing open source technology, OER (open educational resources), and the contribution of volunteers from around the world.