Newsrelease
The Social Media News Release (SMNR) is a press release format designed for the online media world. The press release was written with just the "press" in mind, but in the online world your story needs to be told in a format that is relevant to a wide variety of people – journalists, bloggers, publishers and the public at large. It is also designed with the community nature of the online world in mind so it can be shared and commented on in social bookmarking, microblogging and social networking communities. What does the Social Media News Release contain?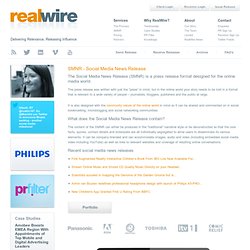 social media news release
Knowledge- able Most university classrooms have gone through a massive transformation in the past ten years. I'm not talking about the numerous initiatives for multiple plasma screens, moveable chairs, round tables, or digital whiteboards. The change is visually more subtle, yet potentially much more transformative. As I recently wrote in a Britannica Online Forum : There is something in the air, and it is nothing less than the digital artifacts of over one billion people and computers networked together collectively producing over 2,000 gigabytes of new information per second. While most of our classrooms were built under the assumption that information is scarce and hard to find, nearly the entire body of human knowledge now flows through and around these rooms in one form or another, ready to be accessed by laptops, cellphones, and iPods.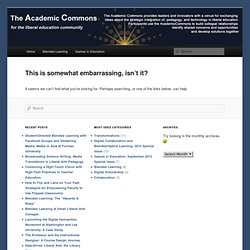 How to Influence Powerful Social Media Users for Traffic and Att