New 2
Featured streams for Twine users. You have been redirected to this page because the Twine.com service is no longer available.
Discover trending topics and interests you were following on Twine.com in a whole new way. Evri finds the latest news on your favorite topics so you can sit back and get informed. Guerrilla Billionaire™ : Career Freedom: Around the World in 80. Career Freedom: Around the World in 80 Trades Although this blog maybe about learning the strategies and tactics of self-made billionaires on the surface, at rock bottom it's about freedom.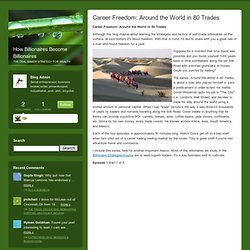 With that in mind, I'd like to share with you a great tale of a man who found freedom for a year. Suppose for a moment that time travel was possible and you found yourself 1000 years back in time somewhere along the old Silk Road with a limited grubstake of money. Could you survive by trading? The series, Around the World in 80 Trades, is about a man who places himself in such a predicament in order to test his mettle. Google Apps Refresh Sets Up Deathmatch With Microsoft -- Google. The battle for the collaborative backbone behind Google Apps versus Microsoft's SharePoint and Exchange is on, and Google is going for Microsoft's jugular.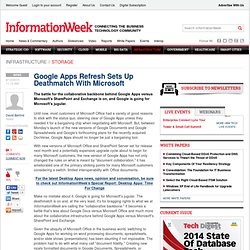 Until now, most customers of Microsoft Office had a variety of good reasons to stick with the status quo, steering clear of Google Apps unless they needed it for a bargaining chip when negotiating with Microsoft. But, between Monday's launch of the new versions of Google Documents and Google Spreadsheets and Google's forthcoming plans for the recently acquired DocVerse, Google Apps should no longer be just a bargaining tool. iPipeline Launches V7.2 of the Velocity On-Demand Platform by In. iPipeline (Exton, Pa.) has launched Version 7.2 of its Velocity on-demand platform supporting the vendors seven product suites: CRM, Quoting and Illustration, Content, iGO e-App, AMS, e-Policy, and Policyholder Services.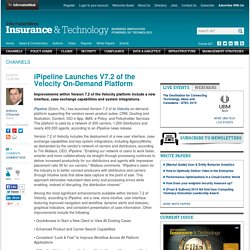 The platform is used by a network of 200 carriers, 1,200 distributors and nearly 400,000 agents, according to an iPipeline news release. Version 7.2 of Velocity includes the deployment of a new user interface, case exchange capabilities and key system integrations, including AgencyWorks, as demanded by the vendor's network of carriers and distributors, according to Tim Wallace, CEO, iPipeline. Webklipper. Onewisdom | FreeOnlineEducationalSites. MIT World >> : Video Index - MIT World is a free, open streaming media web site of the most significant public events at MIT.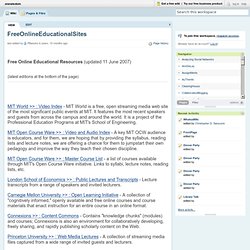 It features the most recent speakers and guests from across the campus and around the world. It is a project of the Professional Education Programs at MIT's School of Engineering. MIT Open Course Ware >> : Video and Audio Index - A key MIT OCW audience is educators, and for them, we are hoping that by providing the syllabus, reading lists and lecture notes, we are offering a chance for them to jumpstart their own pedagogy and improve the way they teach their chosen discipline. MIT Open Course Ware >> : Master Course List - a list of courses available through MIT's Open Course Ware initiative. Links to syllabi, lecture notes, reading lists, etc.
Patti Anklam » The 3rd SM: Enterprise SM. 5 Blogs Every MBA Student Should Be Reading. Every MBA student is pressed for time.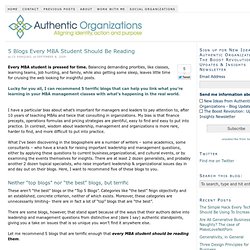 Balancing demanding priorities, like classes, learning teams, job hunting, and family, while also getting some sleep, leaves little time for cruising the web looking for insightful posts. Lucky for you all, I can recommend 5 terrific blogs that can help you link what you're learning in your MBA management classes with what's happening in the real world. I have a particular bias about what's important for managers and leaders to pay attention to, after 10 years of teaching MBAs and twice that consulting in organizations. My bias is that finance precepts, operations formulas and pricing strategies are plentiful, easy to find and easy to put into practice. In contrast, wisdom about leadership, management and organizations is more rare, harder to find, and more difficult to put into practice. Phil Bradley's weblog: Netvibes adds instant dashboards. If you're not familiar with Netvibes, it's a home or start page.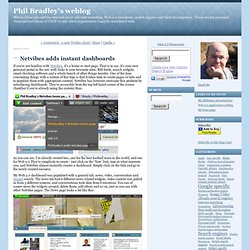 That is to say, it's your own personal portal to the net, with links to your favourite sites, RSS feeds, search widgets, email checking software and a whole bunch of other things besides. One of the time consuming things with a system of this type is that it takes time to create pages or tabs and to populate them with appropriate content. Netvibes has however overcome this problem by introducing dashboards. They're accessible from the top left hand corner of the screen (familiar if you're already using the system) thus: As you can see, I've already created two, one for the best football team in the world, and one for Web 2.0 They're simplicity to create - just click on the 'New' link, type in what interests you, and Netvibes almost instantly creates a dashboard. Enable - home2009. The Founder Institute: Helping Founders to Build Great Companies. Top 10 Clicks: What Accountants Are Reading This Week : CPA Tren.
15 New Rules of Networking and Marketing Communication | Word Se. Recently I had the privilege of attending a marketing and branding training session at the Wright Leadership Institute – three of the most productive hours I've spent in the classroom a long while.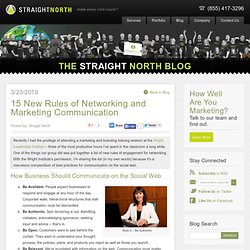 One of the things our group did was put together a list of new rules of engagement for networking. With the Wright Institute's permission, I'm sharing the list (in my own words) because it's a marvelous compendium of best practices for communication on the social web. Rule 2 – Be Authentic Be Available. Twitter Predicts the Future. [Translations: Japanese] The chatter in Twitter can accurately predict the box-office revenues of upcoming movies weeks before they are released.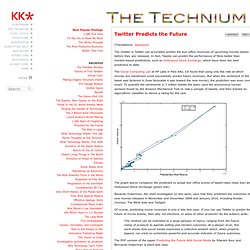 In fact, Tweets can predict the performance of films better than market-based predictions, such as Hollywood Stock Exchange, which have been the best predictors to date. The New Volunteer Manifesto. Just a quick pointer, in case you haven't seen it yet, to Deirdre Reid's post the New Volunteer Manifesto.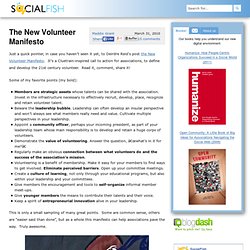 It's a Cluetrain-inspired call to action for associations, to define and develop the 21st century volunteer. Read it, comment, share it! Some of my favorite points (my bold): Members are strategic assets whose talents can be shared with the association. Invest in the infrastructure necessary to effectively recruit, develop, place, recognize and retain volunteer talent.Beware the leadership bubble. Other Projects. Summer Reading: Daniel Pink (Marketplace, American Public Media, August 1 2011) Why bosses need to show their soft side (Telegraph, July 17, 2011) Forget shareholders, maximise consumer value instead (Telegraph, June 18, 2011) Employees are faster and more creative when solving other people's problems (Telegraph, May 22, 2011) SEOmoz Doubles the Volume of Their Free SEO API. SEOmoz recently opened an API to their search engine optimization service, and inevitably comparisons were made to Site Explorer, which is a similar service offered by Yahoo.
In a field where stats are king, the 500 links offered by the free SEOmoz service seemed to come up short against the 1000 links offered by Site Explorer. But that has now changed, with SEOmoz doubling their volume of data available with their free API: You might have gotten a totally awesome email last week announcing that the free SEOmoz API is now serving up to 1,000 links. This is the same free API that's powering tons of internal reporting tools and plenty of tools you might have already seen. A New Framework for Co-creating. A New Framework for Co-creating Business and Social Value Michel Bauwens 1st February 2008 Darren Sharp informs us that his latest report on user-led innovation is finally live on the Web.
Here is the announcement: User-led Innovation: A New Framework for Co-creating Business and Social Value,' co-authored by Darren Sharp and Mandy Salomon. VisInsights. Your Guide To Ubuntu Repositories and Package Management. Most Linux distributions that are aimed at average users have a package management tool. RedHat and Fedora have RPM, Debian/Ubuntu/Mint has APT, Arch has Pacman and so on. Each of them essentially do the same thing — keep track of what is installed, lets you install and remove software as well as prompt you to update the installed software whenever necessary. One Economy Corporation | One Economy.
---