Mindmapping
Create and Collaborate on Online Diagrams - Try it Free | Create
Personal Productivity and Collaboration Solutions that Visually
Key Features Organic & intuitive mind mapping Develop maps easily by adding topics and topic properties Rich media and formatting options Add icons, images, attachments, notes or change shapes, colors for detailed mind mapping
Mind Mapping software for visual thinking | Seavus DropMind™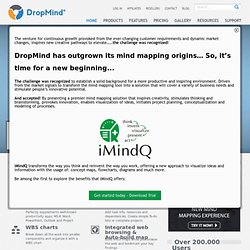 In 140 Characters of Less, You Can Change the World! - free mind
Why I feel Visual Thinking Works
If you're new here, you may want to subscribe to my RSS feed. Thanks for visiting! I feel Visual Thinking works well because it can be used without language; often without the need of labels or written instructions, like universal signs that everyone recognises.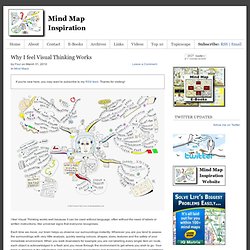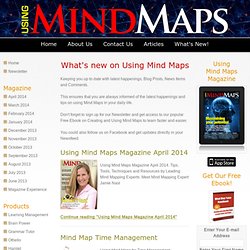 Using Mind Maps Blog
Keeping you up to date with latest happenings, Blog Posts, News Items and Comments. This ensures that you are always informed of the latest happenings and tips on using Mind Maps in your daily life. Don't forget to sign up for our Newsletter and get access to our popular Free Ebook on Creating and Using Mind Maps to learn faster and easier. You could also follow us on Facebook and get updates directly in your Newsfeed.
Most small and medium sized businesses only decide to create a Business Plan when they need to raise finance. Most big businesses do the same. This is often too late. The business plan should be a working document. There are many schools of thought about business plans and there is no consensus whether you need one or not.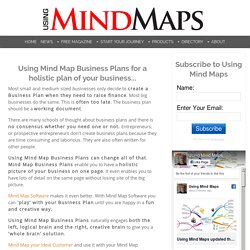 Using Mind Map Business Plans
Mind Map Examples - Use them to learn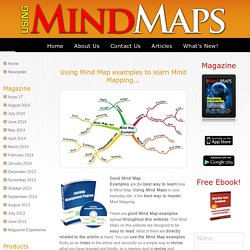 Good Mind Map Examples are the best way to learn how to Mind Map. Using Mind Maps in your everyday life, is the best way to master Mind Mapping. There are good Mind Map examples spread throughout this website. The Mind Maps on this website are designed to be easy to read. Most of them are directly related to the article at hand. You can use the Mind Map examples firstly as an index to the article and secondly as a simple way to revise what you have learned and thirdly, as a memory tool to revise and remember the important points in the article.
Check out this link (via http://ow.ly)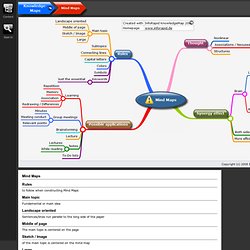 Mind Maps Rules to follow when constructing Mind Maps Main topic
InfoRapid KnowledgeMaps - MindMaps
MindMap Your Way to Success
If you've been involved with any indicent, no matter how small, you know that data becomes available not as you need it (linearly reported, always true/fact) but as it is generated. Many times that data could be things you only need after the immediate problem is mitigated - it is historical about the problem but not useful for the immediate reaction period. This mind map will give you an easy place to collect all incoming data, catalog it and then act upon it when the timing is appropriate. The user is encouraged to start capturing information on the map as quickly as possible upon notification that a "problem" exists - branching information as is helpful to ensure everything is noted on the mind map. Mind Map (Mindjet MindManager Pro 7): Problem Statement MapMap PDF: Problem Statement PDFMap Image: Problem Statement Image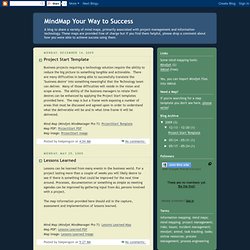 89 Reasons Designers Should Start Mind-Mapping
It is said that an average person has 12,000 to 50,000 thoughts in a day. Of course, a genius might have more than you and I, but the figure mentioned was the hypothetical traffic that goes on in our brain. Our thoughts rarely go from Point A to Point B in a straight line.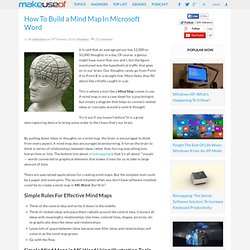 How To Build a Mind Map In Microsoft Word
Visual thinking at work: How I used SmartDraw to communicate the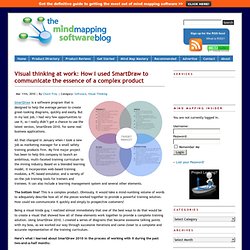 Mar 11th, 2010 | By Chuck Frey | Category: Software, Visual Thinking SmartDraw is a software program that is designed to help the average person to create great-looking diagrams, quickly and easily. But in my last job, I had very few opportunities to use it, so I really didn't get a chance to use the latest version, SmartDraw 2010, for some real business applications. All that changed in January when I took a new job as marketing manager for a small safety training products firm.
One of the best applications for personal development is mind mapping, and there's no denying recognition must be given to Tony Buzan for his initial formalizing of hand drawn mind mapping @ 40 years ago now. Using the rules of Buzan mindmapping is actually quite an easy yet disciplined approach to populating your personal mind map with thoughts, ideas and potentials. I must be clear; I'm not a Buzan purist or even mind map according to Buzan methodologies; yet the Buzan approach to mapping remains to be the most effective introduction to mind mapping for newcomers to, in particular, the mind mapping arena. Software developers exponentially enhanced the Buzan approach expanding the single radiant format into multiple formats that we now call visual mapping. This includes but isn't limited to mind mapping, concept mapping, flow charting, info graphics and other graphical approaches that are common to business, such as value stream mapping.
VISUALMAPPER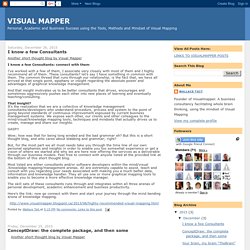 Yesterday was the first 'Unplugged' event hosted by Biggerplate. For the first time, mind mapping software developers, practitioners and users came together to discuss the current and future positions of mind mapping and mind mapping software. The main themes of the day are best summed up by the three topics considered in the panel discussions: Introducing Mind Mapping: how is it presented and marketed - is this effective or does it alienate potential new audiences?
Peace of Mind
My Life | Mind Map Art
The My Life Mind Map will help you to see the personal life influences of Roberta Buzzacchino. The Mind Map breaks down photography, thinking, home, friends, books and reading. In addition, the Mind Map highlights food and holidays, nature and the environment, work and holidays and music and films. You will discover all this and more with the My Life Mind Map Handy Links How Do You Rate this Mind Map?
How to say NO
Mind Map Art: Showcasing the World's Finest Mind Maps
52 Things to Drop for a Week Mind Map
Idea Creation E-Book - www.mindmapinspiration.co.uk
Mind Mapping Software Blog » Your best resource for advice on mi
20+ Mind Mapping Resources to Increase Your Creativity & Pro
Last week's 'Getting Things Done' conference (day 1 / day 2) was packed with some great insights and even better people! There's a natural synergy between mind mapping and productivity which led to many great conversations with everyone from professional organizers to retired generals, famous authors and journalists to IT managers, consultants, and business managers. Now that the conference is over, it's back to 'doing' the work instead of discussing ways to do it better! Learn about GTD and Mind Mapping: If you're unfamiliar with GTD, I'll be hosting a webinar on March 24th at 10 AM Pacific Time which will highlight my experiences implementing GTD along with how I complement it with mind mapping. Recently, I've been asked by several customers how they can learn more about mind mapping.
Habit of Thinking Big!
http://kathyberman.com/2009/12/using-free-web-based-mind-mapping
How to Mind Map: A Beginner's Guide
Mindscaping: A Learning and Thinking Skill for All
Basics Of Mind Mapping For Business And Beyond
Mind Maps Home - www.mindmaps.moonfruit.com
Make your thinking and planning smarter and faster | Seavus Drop
Visual Understanding Environment
Affirmation Tree Mind Map - www.mindmapinspiration.co.uk