Microsoft
Sharepoint. Linkedin. Home : The Official Microsoft Silverlight Site. Web Platform - Home. The Official Microsoft Blog – News and Perspectives from Microso. Back in November 2009, we introduced the Outlook Social Connector and announced our first partnership with LinkedIn.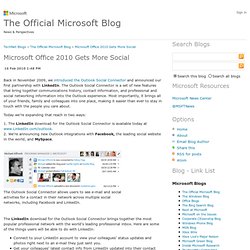 The Outlook Social Connector is a set of new features that bring together communications history, contact information, and professional and social networking information into the Outlook experience. Most importantly, it brings all of your friends, family and colleagues into one place, making it easier than ever to stay in touch with the people you care about. Today we're expanding that reach in two ways: Microsoft's Week: Azure and Office 2010 Show the Cloud Will.
HOT TOPICS: Android Apple IT Management Networking Slide Shows More Follow Us: Small Business Virtualization Database PC Hardware Servers Tweet Chat eWEEK at 30 Next Generation Firewall Project Center Cloud Backup Project Center RSS RSS Feeds DDoS Attacks Abusing Network Timing Protocol Flood the Web US-CERT warns of an increase in distributed denial-of-service attacks that leverage Network Timing Protocol.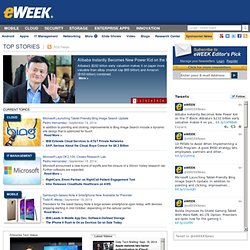 Products -- Windows Azure Platform. Case. Introducing Microsoft Office 2010 Technical Preview.
---