Km2.0
36UsefulMaximsforknowledgesharinglea.docx
Project Management Tools Rein in Cost, Conserve Resources | Know
The Knowledge Network Documents wiki is populated by templates, calculators, book excerpts and other tools created by your colleagues in IT. The project management tools we offer have proven to be popular within the Knowledge Network, whether they are start-to-finish checklists, such as this template provided by Michael Taylor or this Project Management Guidebook from Method 123 , or items that zero in on a particular facet of managing projects, such as risk management. Take a look at these other popular documents in the Knowledge Network: Project Management Toolkit - Provides several tools to help successfully manage a project while honoring project restraints such as scope, time and budget. IT Management Process - Graphically depicts an eight-step process to manage any IT organization, whether it is a small programming staff or a large distributed IT organization supporting all technology aspects of a company.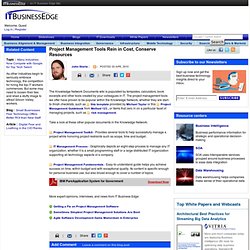 AOK: Featured Bloggers
To reference this page copy and paste the text below: Atherton J S (2011) Learning and Teaching; Angles on learning, particularly after the schooling years [On-line: UK] retrieved 31 March 2013 from http://www.learningandteaching.info/learning/index.htm Comments (including broken links etc.) welcome (even needed ) please: email me here Original material by James Atherton: last up-dated overall 10 February 2010 This work is licensed under a Creative Commons Attribution-Noncommercial-No Derivative Works 3.0 Unported License .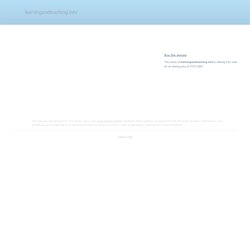 Angles on learning, particularly after the schooling years
How to Save the World
On June the 2nd and 3rd the first of a series of IKM interactive sessions was held with the information managers of 11 Organisations working in Francophone Africa. The workshop in Dakar, Senegal, was hosted by CODESRIA at the AUF Campus Numérique. The meeting focused on the use of new opportunities provided by the Internet and Web2.0 as well as on the obstacles to publishing, promoting, aggregating and finding African research outputs. The participants worked together on a wiki platform where they could get access to a series of modules and provide feedback.
First IKM Interactive workshop « The giraffe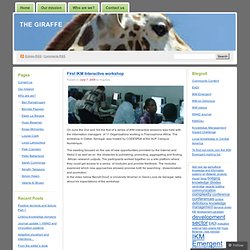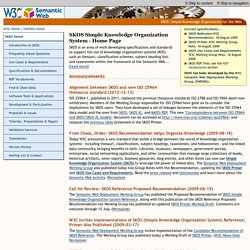 SKOS is an area of work developing specifications and standards to support the use of knowledge organization systems (KOS) such as thesauri, classification schemes, subject heading lists and taxonomies within the framework of the Semantic Web ... [ read more ] Alignment between SKOS and new ISO 25964 thesaurus standard (2012-12-13) ISO 25964-1, published in 2011, replaced the previous thesaurus standards ISO 2788 and ISO 5964 (both now withdrawn). Members of the Working Group responsible for ISO 25964 have gone on to consider the implications for SKOS users.
Global Annual KM Conferences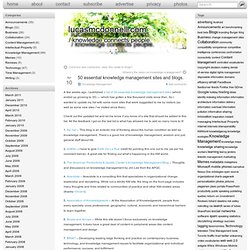 50 essential knowledge management sites and blogs. | lucasmcdonn
A few weeks ago, I published a list of 26 essential knowledge management sites (which ended up growing to 35) — which has gotten a few thousand visits since then. So I wanted to update my list with some more sites that were suggested to me by visitors (as well as some new sites I've visited since then). Check out the updated list and let me know if you know of a site that should be added to this list.
Green Chameleon
Inmagic: Knowledge Management solutions: Enabling Social Intelli
On Wednesday, May 20, 2009 at 3:00 PM Eastern Time (US & Canada), I'll be conducting the fourth of four webinars in the KM 101 series. Register here – free . Here's a description: This session is called: Intranets, Portals, Web 2.0 & Enterprise 2.0 Knowledge Management is not all about technology, but it certainly helps.
KM101 Webinar: Intranets, Portals, Web 2.0 & Enterprise 2.0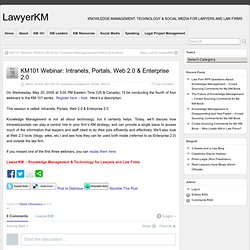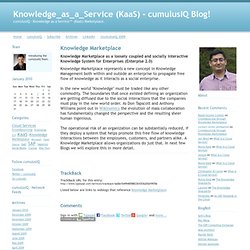 Knowledge Marketplace as a loosely coupled and socially interactive Knowledge System for Enterprises (Enterpise 2.0) Knowledge Marketplace represents a new concept in Knowledge Management both within and outside an enterprise to propagate free flow of knowledge as it interacts as a social enterprise. In the new world "Knowledge" must be traded like any other commodity.
Knowledge_as_a_Service (KaaS) - cumulusIQ Blog!: Knowledge Marke
The future of knowledge workers, Part 1