Investing
Publications. 24/7 Wall St. Calculated Risk. Wall Street: Inside the Collapse - 60 Minutes. If you had to pick someone to write the autopsy report on the Wall Street financial collapse 18 months ago, you couldn't do any better than Michael Lewis.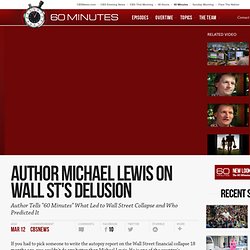 He is one of the country's preeminent non-fiction writers with a knack for turning complicated, mind numbing material into fascinating yarns. He wrote his first bestseller, "Liar's Poker," about his experiences as a young Wall Street bond trader when he was still in his 20s and has since followed up with seven more bestsellers on subjects ranging from Silicon Valley in "The New New Thing" to big time sports in "Money Ball" and "The Blind Side. " His new book, called "The Big Short: Inside the Doomsday Machine," comes out later this week and it explains how some of Wall Street's finest minds managed to destroy $1.75 trillion of wealth in the subprime mortgage markets. Institutional Investor -- Global finance market news, analysis a.
Citigroup (C) Business Overview Citigroup operates four business segments in four regions.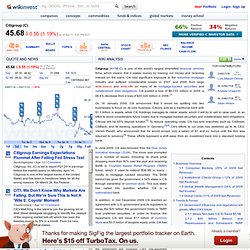 The four regions include North America (including US, Canada, and Puerto Rico), EMEA (Europe, Middle East & Africa), Latin America (including Mexico, and Asia (including Japan) Consumer Banking (25% of 2009 Net Revenue)
---