Elearning
Risk-return spectrum. The risk–return spectrum (also called the risk–return tradeoff) is the relationship between the amount of return gained on an investment and the amount of risk undertaken in that investment.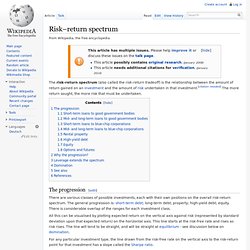 [citation needed] The more return sought, the more risk that must be undertaken. The progression[edit]
E-learning. Handbook. Distancelearning. Cpe. Performance and ADDIE Models. Clark Quinn has an informative post where he discusses the need for Performance Analysis, Learner Experience Design, and ADDIE.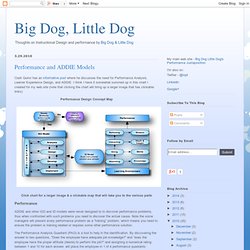 I think I have it somewhat summed up in this chart I created for my web site (note that clicking the chart will bring up a larger image that has clickable links): Performance Design Concept Map Click chart for a larger image & a clickable map that will take you to the various parts Performance. EDU 2.0 for school: the free, easy way to teach and learn online. Creating Engaging, Interactive e-Learning – Even With Your Hands. "The most positive result is that the Northern Ireland Civil Service and NIO now see e-Learning as a viable training option, whereas before, it was only considered to be a last resort."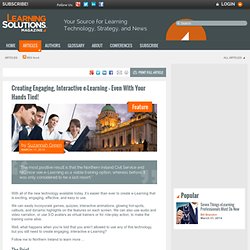 With all of the new technology available today, it's easier than ever to create e-Learning that is exciting, engaging, effective, and easy to use. We can easily incorporate games, quizzes, interactive animations, glowing hot-spots, callouts, and dynamic highlights on the features on each screen. We can also use audio and video narration, or use 3-D avatars as virtual trainers or for role-play action, to make the training come alive.
How to Teach Online: Teaching Online using WiZiQ. Easy-to-use for any number of attendees without the hassle of downloading software.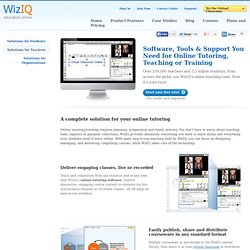 WizIQ works using Flash technology with a familiar browser-like tabbed interface and standard keyboard shortcuts. This means that if you can view a web page, you can present or attend a live class. Live audio and video chat equal the best results for students and teachers. WizIQ's online tutoring software allows live video streams for up to 6 people via VoIP, seamless audio chat for multiple people simultaneously, full screen video, and the ability to control audio/video for all attendees. Uk e-learning information. About ICTforSME.
The E-Learning Curve Blog at Michael Hanley Consulting. Classroom-Based Training: a New Approach for the 21st Century The government is introducing a scheme that will convert regular school classrooms into operant conditioning chambers.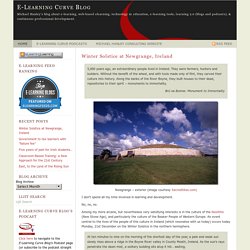 According to Dept. of Education spokesman, Dr. Aibreáin Ó Amadain, "we are convinced that this is the most effective way to educate young minds."
---