Digital_literacy
Transliteracy Research Group. At 3Ts 2013: Transliteracy from Cradle to Career in Saratoga Springs this week I learned some new things about transliteracy. 1.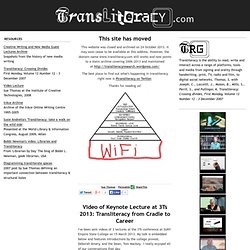 In What I Want, When I Want to Watch It: Brief Thoughts on Television Literacy in the Streaming World with Hollie Miller & Michele Forte, Hollie aka @theotherinside showed us a feature on Hulu Plus which allows you to choose between adverts. That means that when the ads come on - as they invariably do - if you don't like the one they're showing, you can choose a different ad from several on offer.
Digital Literacy Home. Welcome to the Microsoft Digital Literacy curriculum.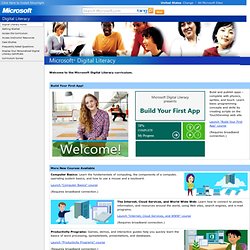 Whether you are new to computing or have some experience, Digital Literacy will help you develop a fundamental understanding of computers. The courses help you learn the essential skills to begin computing with confidence, be more productive at home and at work, stay safe online, use technology to complement your lifestyle, and consider careers where you can put your skills to work. Use the menu below to see the Digital Literacy curricula and courses available in your preferred language.
---