Collaboration
Platform. Crowdsourcing. Projectmanagement. Acting. Audio. Flowr. Real-time Collaboration, knowledge exchange and smart inf. Workscape evolution. This morning Jane Hart posted this 5-stage model of the evolution of workplace learning in an organization.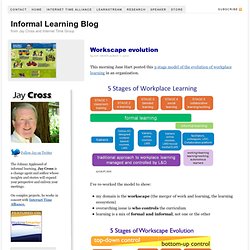 I've re-worked the model to show: my domain is the workscape (the merger of work and learning, the learning ecosystem)overarching issue is who controls the curriculumlearning is a mix of formal and informal, not one or the other. ..: Sironta :.. Cooperate, Collaborate, Share. Democrasoft - Social Collaboration & Voting Platforms for Bu. Doorway: People. Knowledge Infusion | We Know Human Capital. Radical Inclusion. Collanos | Think Out of the Inbox. 100 Web Tools to Enhance Collaboration (Part 3) | Ozge Karaoglu& "If you have an apple and I have an apple and we exchange these apples then you and I will still each have one apple.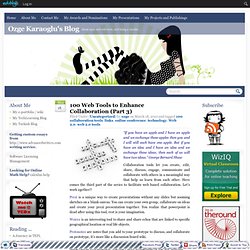 But if you have an idea and I have an idea and we exchange these ideas, then each of us will have two ideas." George Bernard Shaw. GovWin. Educational Collaborators - Because those who can, teach! - Home. Managing Mass Collaboration. The 10 Best Collaborative Web Tools for Business | Business Pund. This is a blog post by Drea Knufken.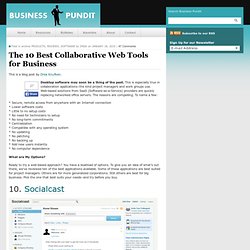 Desktop software may soon be a thing of the past. This is especially true in collaboration applications–the kind project managers and work groups use. Web-based solutions from SaaS (Software-as-a-Service) providers are quickly replacing networked office servers. 15 Free Tools for Web-based Collaboration. No man (or woman) is an island – and this statement can't be any truer if you're a designer or developer.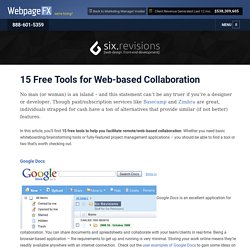 Though paid/subscription services like Basecamp and Zimbra are great, individuals strapped for cash have a ton of alternatives that provide similar (if not better) features. In this article, you'll find 15 free tools to help you facilitate remote/web-based collaboration. Whether you need basic whiteboarding/brainstorming tools or fully-featured project management applications – you should be able to find a tool or two that's worth checking out. Google Docs. Virtual Requirements for Collaboration.
9 Great Document Collaboration Tools for Teams. This post originally appeared on the American Express OPEN Forum, where Mashable regularly contributes articles about leveraging social media and technology in small business.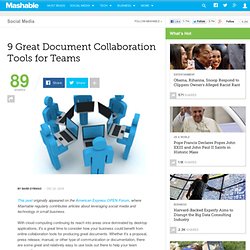 With cloud computing continuing its reach into areas once dominated by desktop applications, it's a great time to consider how your business could benefit from online collaboration tools for producing great documents. Whether it's a proposal, press release, manual, or other type of communication or documentation, there are some great and relatively easy to use tools out there to help your team prepare it.
We've looked at the bigger picture in team collaboration tools before, including everything from private group messaging to shared contacts to project management. We've also looked at how to collaboratively create presentations using online tools as well. 10 Team Collaboration Techniques for 2010 | Online Social Networ. Dec Ivana Taylor, consultant and author of the marketing blog, Strategy Stew, presented 10 Must-Do Marketing Tips for 2010 in the OPEN Forum Idea Hub for Innovation.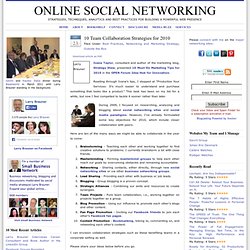 Reading through Ivana's tips, I stopped at "Productize Your Services: It's much easier to understand and purchase something that looks like a product." This task has been on my list for a while, but now I feel compelled to tackle it sooner rather than later. During 2009, I focused on researching, analyzing and blogging about social networking sites and social media paradigms. However, I've already formulated some key objectives for 2010, which include closer collaboration with peers. 8 Things You Need to Know About Collaboration. Online Collaboration Suite: Integrated Web Collaboration Softwar. Online Document ManagementFree data from the confines of your office walls - get online document management!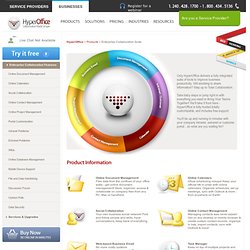 Store, organize, access & collaborate on company files from any PC, Mac or handheld. Social CollaborationYour own business social network! Find and follow people and skills, have conversations, keep track of everything. Web-based Business EmailNo more costly systems for custom company email. Google aims to "connect" users with shared interests. Google is improving its service aimed at providing websites with social networking features by making it easier for users with shared interests to connect with one another.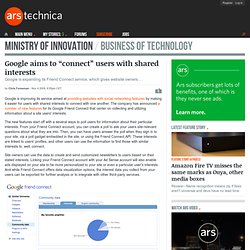 The company has announced a number of new features for its Google Friend Connect that center on collecting and utilizing information about a site users' interests. The new features start off with a several ways to poll users for information about their particular interests. From your Friend Connect account, you can create a poll to ask your users site-relevant questions about what they are into. Then, you can have users answer the poll when they sign in to your site, via a poll gadget embedded in the site, or using the Friend Connect API. These interests are linked to users' profiles, and other users can use the information to find those with similar interests to, well, connect.
Global 500 pharmaceutical company boosts retention of MBA candid. We have another client on the record.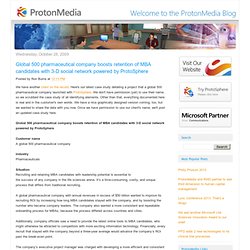 Here's our latest case study detailing a project that a global 500 pharmaceutical company launched with ProtoSphere. We don't have permission (yet) to use their name, so we scrubbed the case study of all identifying elements. Other than that, everything documented here is real and in the customer's own words. McKinsey: What Matters: Using technology to improve workforce co.
---