Certification
AAFM American Academy of Financial Management Board of Standards
Global M&A Overview.docx
AAFM Info on Financial Designations LINKS Investor Education AAF
vision2012_casestudy.pdf (application/pdf Object)
CFA Test-Takers Seek Wall Street Success, Global Acceptance - Bl
Financial Planning Certificate Program
CFA Program Main
AAFM BOARD CERTIFIED Financial Analyst Designate FAD Financial D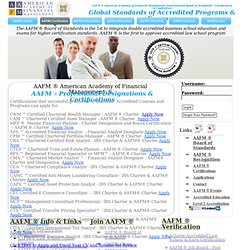 AAFM ® American Academy of Financial Management International Board of Standards - Certification Accreditation Global Standards of Accredited Programs & Exams ™ The AAFM ® Board of Standards is the 1st to integrate double accredited business school education and exams for higher certification standards.
2009-10 AAFM Members Handbook.pdf (application/pdf Object)
What are the key strategic questions facing CFA Institute
Certified Financial Planner Board of Standards Inc. - Continuing
AAFM Info on Financial Designations LINKS Investor Education AAF
International
AAFM Board Certification and Designations: are certification credential marks for Wealth Managers, Financial Analysts, Investment Bankers, Accountants etc. and Degree holding Financial Planners conferred by the American Academy Board of Standards. To receive authorization or accreditation to use AAFM Board Certification and Designations, the candidate must meet education, degree, examination, experience, continuing education, and ethics requirements, and pay good standing or certification fees. Each AAFM™ Designation below should be used in full on your business cards, web sites, promotional materials, and resumes.
Financial Designations and Credentials AAFM BOARD CERTIFIED Fina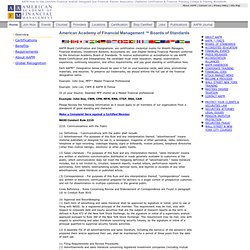 FEI CPE Center
Pepperdine Professor Mark Chun Named to Lead New Center for Appl
FFI's mission is to be the most influential global network of thought-leaders in the field of family enterprise. We provide research-based learning and relevant tools for advisors and consultants, academics and owners to drive success. Professionals, educators and researchers as well as family enterprise members from more than 88 countries across the globe (almost half of all nations) belong to FFI. Together they create the oldest and most prestigious multidisciplinary professional association for family enterprise in the world.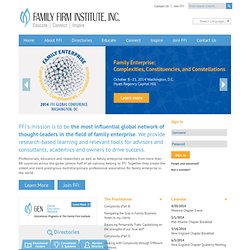 Collaboration Guidelines - Family Firm Institute (FFI) - The Int
Learning Market CPE Registry CPE Roster QAS ALL CredentialNet NASBA Licensing Services Mobility NASBA CPAES Center for the Public Trust Wall Certificate Service Specifically for CPA candidates, find information you need before, during and after taking the Uniform CPA Examination. During your professional career, the tools you need to succeed will vary. Bookmark all of the resources you need to practice and maintain your license.
Accountancy Licensing and CPE Compliance Made Simple and Conveni
About the Registry Joining the Registry Registry Forms and Applications Quality Assurance Service (QAS) State CPE Rosters Developed in 1990, the National Registry of CPE Sponsors is a program offered by the National Association of State Boards of Accountancy (NASBA) to recognize CPE program sponsors who provide continuing professional education (CPE) programs in accordance with nationally recognized standards. Many State Boards of Accountancy require CPAs to earn required CPE credits through companies approved on the National Registry of CPE Sponsors. The names of approved CPE program sponsors are published here on Learning Market. State Boards of Accountancy and their licensees can refer to this listing to identify and select approved learning providers.
FAQ41108.pdf (application/pdf Object)
english_code.pdf (application/pdf Object)
Processing - Please Wait.
IntoOur5thDecade.pdf (application/pdf Object)
Candidate Resources - Preparation Toolkit
(June 2005): 1-2(doi: 10.2469/ccb.v2005.n8.4568) View Table of Contents The CFA Institute Code of Ethics and Standards of Professional Conduct (Code and Standards) are fundamental to the values of CFA Institute and essential to achieving its mission to lead the investment profession globally by setting high standards of education, integrity, and professional excellence. High ethical standards are critical to maintaining the public's trust in financial markets and in the investment profession. Since their creation in the 1960s, the Code and Standards have promoted the integrity of CFA Institute members and served as a model for measuring the ethics of investment professionals globally, regardless of job function, cultural differences, or local laws and regulations.
CFA Institute Publications: CFA Institute Centre Publications -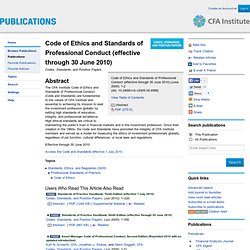 CFA Program Main
Practice Analysis
CFA Institute Education Adivisory Committee
IMC_USA_Competency_Framework.pdf (application/pdf Object)
Knapp Certification Re-Think Tank™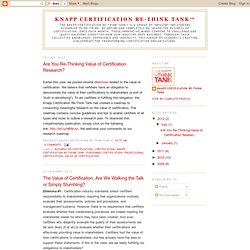 It's the third year of the Knapp Certification Re-Think Tank™ and we are proud to welcome a new panel of industry leaders and innovative thinkers. Our 2011-2012 panelists are: Liz BurnsSenior Manager, Juniper Networks Certification ProgramJuniper Networks Jill C. BurroughsSenior Director, Exam ServicesCompTIA
FINRA Announces Date of First Series 79 Exam The new investment banking exam, the Series 79, will be available for those first new test takers on November 2, 2009 at any of the FINRA testing centers (Pearson and Prometric). In addition to the test date announcement, FINRA also published a Series 79 Content Outline which seems to be very comprehensive. We have provided an overview of the exam below and will continue to bring you updated information on this exam.
Series 79 Exam Available November 2, 2009 — Hedge Fund Law Blog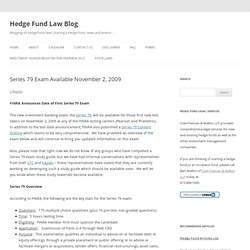 Accredited Certification Programs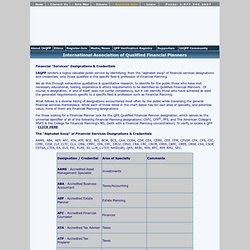 Financial planner, qualified financial planner, qfp, unifying de
Financial "Services" Designations & Credentials IAQFP renders a highly valuable public service by identifying, from the "alphabet soup" of financial services designations and credentials, only those qualified in the specific field & profession of Financial Planning. We do this through exhaustive qualitative & quantitative research, to identify for the public those who have met necessary educational, testing, experience & ethics requirements to be identified as Qualified Financial Planners. Of course, a designation, in and of itself, does not confer competency, but it can identify those who have achieved at least the generalist requirements specific to a specific field & profession such as Financial Planning. What follows is a diverse listing of designations encountered most often by the public while traversing the general financial services marketplace.