Collaborative Writing
Etherpad lite allows you to edit documents collaboratively in real-time, much like a live multi-player online editor, allowing you to write articles, proposals, press releases and the like, together with your friends, your fellow students or your colleagues, working on the same document at the same time. It even supports rich text editing! Additionally, Etherpad lite provides access to all data through a well-documented HTTP API and supports import/export to many major data exchange formats.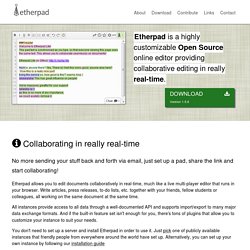 Free Collaborative
Nordic River
Overview SynchroEdit is a browser-based simultaneous multiuser editor, a form of same-time, different-place groupware. It allows multiple users to edit a single web-based document at the same time, and it continuously synchronizes all changes so that users always have the same version.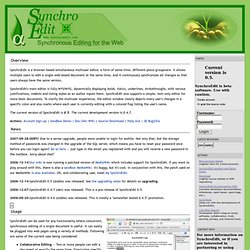 ThinkFold's structured environment helps groups collaborate on ideas, documents, presentations and plans. Put an end to endless emails, multiple document versions, unstructured wiki pages and confusing planning tools with a simple, yet powerful and flexible structured thinking tool. Using ThinkFold, your workgroup can:

ThinkFold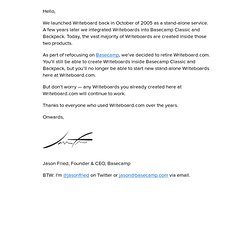 Hello, We launched Writeboard back in October of 2005 as a stand-alone service. A few years later we integrated Writeboards into Basecamp Classic and Backpack. Today, the vast majority of Writeboards are created inside those two products.
You don't have to install or maintain hardware and software and reasonably priced subscription plans lead to more cost savings. Being a web-based document management solution you can take all your documents with you wherever you go with access to them anytime, anywhere. Scalability, security, reliability or software upgrades, we have them all covered, so you can focus on enhancing business productivity. Storing your files online keeps all your valuable data safe from various threats and calamities and ensures the normal functioning of your business is not affected.