Sketching
Advertisement Sketching and wireframing are a specialized style of drawing, used for fleshing out preliminary complex ideas, group brain-storming, a lo-fi method for evaluating interaction concepts, and as a way of roughly perfecting a design technique. Sketch and wireframe paper is essentially drawing paper that is designed specifically for this purpose. You could use it for web page design, web app design, architectural or structural design, graphic design, movie direction, animation… basically any type of design that needs a physical creative outlet or group collaboration. Not all sketch and wireframe sheets are universal, most are specialized for a particular medium, such as storyboards and specialized grid paper (axonometric perspective templates). Below you will find a concise collection of ready to print sketching, wireframing and note-taking templates.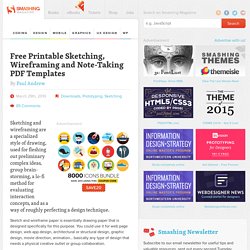 I hear a lot of people talking about the importance of sketching when designing or problem-solving, yet it seems that very few people actually sketch. As a UX professional, I sketch every day. I often take over entire walls in our office and cover them with sketches, mapping out everything from context scenarios to wireframes to presentations.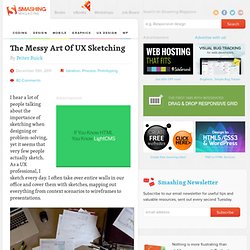 The sketchboard is a low-fi technique that makes it possible for designers to explore and evaluate a range of interaction concepts while involving both business and technology partners.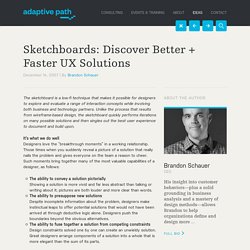 Sketching is a critical part of the User Experience Design process. Sketching allows us to explore ideas and iterate on concepts quickly and easily before creating detailed mockups. Below is a roundup of many different sketching articles, tools, templates, presentations, videos, books, and examples to help User Experience Designers learn more about sketching and how it benefits UX design. Articles about Sketching Shades of Grey: Thoughts on Sketching : Will Evans describes the role sketching plays in his design process and how sketching can help us explore problem spaces whose borders have not been fully defined.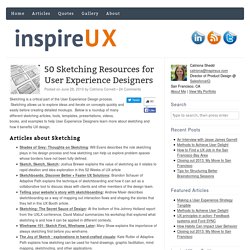 50 Sketching Resources for User Experience Designers
Physical Sketching (Sketching vs Prototyping with BeatBearing desig...
Sketching for Design - Guest Lecture
Sketching User Experience
Design Studios: Idea Creation
Sketching for Design