Design
Get flash to fully experience Pearltrees
Ce n'est plus à prouver, les spécialistes design des marques d'aclool ont beaucoup de talents et de créativité .
Une AlertBox de Jakob Nielsen a récemment réenfoncé le clou : 80% du temps de consultation est passé au-dessus de la ligne de flottaison.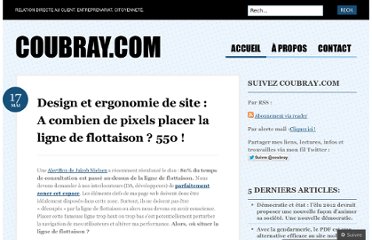 Summary: Web users spend 80% of their time looking at information above the page fold. Although users do scroll, they allocate only 20% of their attention below the fold. In Web design, there's much confusion about the "page fold" concept and the importance of keeping the most salient information within a page's initially viewable area .
Un des mystères les plus épais du web a été résolu depuis bien longtemps, mais le eye-tracking a permis de mieux comprendre le fonctionnement des internautes lorsqu'il s'agit de plonger profondément dans la page et de s'enfoncer sous la ligne de flottaison.
A form can be a very important part of a website. From really simple and direct ones, to fancy, colorful and creative, there is a form style for each site.
Web designers spent lots of time in making mock ups of web pages, in which they have to use Web UI elements again and again. They can really save time if this Web UI element kits and stencils are already available to them. In this article we have listed 40 completely free Web UI kits and stencils, which can be used in initial mockup or wireframing.
In this post, we are presenting an overwhelming collection of Free wireframing and UI design kits that come handy for the designers when they want to mock-up a user-interface.