Economists
Alan Greenspan. Alan Greenspan (/ˈælɨn ˈɡriːnspæn/; born March 6, 1926) is an American economist who served as Chairman of the Federal Reserve of the United States from 1987 to 2006.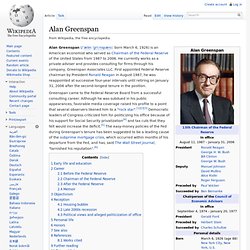 He currently works as a private adviser and provides consulting for firms through his company, Greenspan Associates LLC. First appointed Federal Reserve chairman by President Ronald Reagan in August 1987, he was reappointed at successive four-year intervals until retiring on January 31, 2006 after the second-longest tenure in the position.
Greenspan came to the Federal Reserve Board from a successful consulting career. Ben Bernanke. Ben Shalom Bernanke[1] (/bərˈnæŋki/, bər-NANG-kee;[2] born December 13, 1953) is an American economist at the Brookings Institution[3] who served two terms as chairman of the Federal Reserve, the central bank of the United States from 2006 to 2014.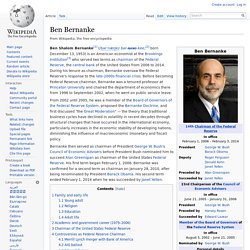 During his tenure as chairman, Bernanke oversaw the Federal Reserve's response to the late-2000s financial crisis. Before becoming Federal Reserve chairman, Bernanke was a tenured professor at Princeton University and chaired the department of economics there from 1996 to September 2002, when he went on public service leave.
Fed Chairman Bernanke On The Economy. Joseph Stiglitz. Joseph Eugene Stiglitz, ForMemRS, FBA (born February 9, 1943) is an American economist and a professor at Columbia University.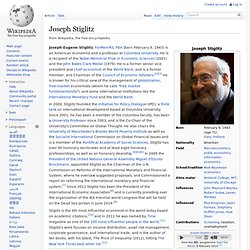 He is a recipient of the Nobel Memorial Prize in Economic Sciences (2001) and the John Bates Clark Medal (1979). He is a former senior vice president and chief economist of the World Bank, and is a former member, and Chairman of the Council of Economic Advisers.[2][3] He is known for his critical view of the management of globalization, free-market economists (whom he calls "free market fundamentalists"), and some international institutions like the International Monetary Fund and the World Bank. Joseph Stiglitz: New Ideas for a New World. Joe Stiglitz - the moral failing of capitalism. Milton Friedman. Friedman's challenges to what he later called "naive Keynesian" (as opposed to New Keynesian) theory[4] began with his 1950s reinterpretation of the consumption function, and he became the main advocate opposing activist Keynesian government policies.[5] In the late 1960s he described his own approach (along with all of mainstream economics) as using "Keynesian language and apparatus" yet rejecting its "initial" conclusions.[6] During the 1960s he promoted an alternative macroeconomic policy known as "monetarism".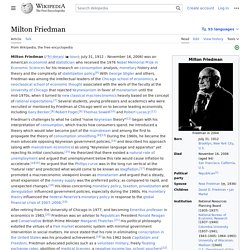 Milton Friedman on his Ideal Society.
---