Web pratique
CODING FOR GOOD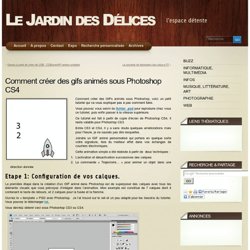 Comment créer des gifs animés sous Photoshop CS4
Comment créer des GIFs animés sous Photoshop, voici un petit tutoriel qui va vous expliquer pas à pas comment faire. Vous pouvez vous servir du fichier .psd pour reproduire chez vous ce tutoriel, puis enfin passer à la vitesse supérieure. Ce tutoriel est fait à partir de copie d'écran de Photoshop CS4, il reste valable pour Photoshop CS3. Entre CS3 et CS4, il y a sans doute quelques améliorations mais pour l'heure, je ne saurais pas dire lesquelles. Joindre un GIF animé personnalisé qui portera en quelque sorte votre signature, fera du meilleur effet dans vos échanges de courriers électroniques.
Úschovna.cz
How To Pick a Good Domain Name That Doesn't Suck - Choosing a Good Domain Name
Banque de données des messages indésirables by michellafaye Feb 20
J'utilise Path depuis quelques semaines maintenant. Il est peu dire que ce fut une grande découverte… Comme beaucoup d'early adopters, j'ai commencé à utiliser les réseaux sociaux en 2007. Avant cela j'avais l'habitude de bloguer. Lorsque Facebook a atteint son « tipping point » vers juin 2007, en tant que blogueur j'ai commencé à devenir schizophrène: « Devais-je continuer à poster des billets personnels sur mon blog?
Comment Path a changé ma vie sur les réseaux sociaux.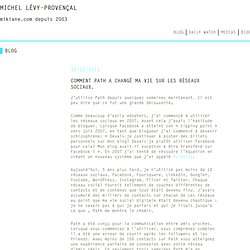 Un café à la mode , dans un quartier fréquenté par les étudiants de Manhattan. En cette fin de matinée, la salle est bondée, mais pas trop bruyante, car la moitié des clients lisent ou écrivent sur leur ordinateur portable. David Darts, responsable du département d'art de la New York University, entre discrètement, avec à la main une lunch box d'écolier - une petite boîte en fer noire, décorée d'une tête de mort. Discrètement, il va la poser sur une table, dans un coin. Aussitôt, plusieurs clients, qui cherchent le réseau WiFi du café pour aller sur Internet, voient apparaître sur leur écran une icône inédite : " Pirate Box, Share Freely !"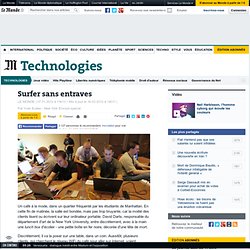 PirateBox is a self-contained mobile communication and file sharing device. Simply turn it on to transform any space into a free and open communications and file sharing network. Share (and chat!) Freely Inspired by pirate radio and the free culture movements, PirateBox utilizes Free, Libre and Open Source software (FLOSS) to create mobile wireless communications and file sharing networks where users can anonymously chat and share images, video, audio, documents, and other digital content. Private and Secure PirateBox is designed to be private and secure. No logins are required and no user data is logged.