Crochet patterns
untitled
I have been making these brooches for many years in all colours, I based them on this little rose tree in my garden (the crocheted brooch and the real rose are about the same size). This is the first time I have written the pattern out (its embeded in my brain) and as valentines is near, why not make yourself a rose brooch. The pattern starts with a row of loops Red Rose Brooch (or any colour rose brooch you prefer)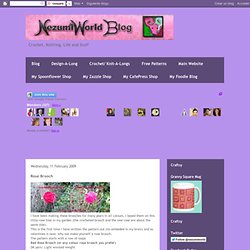 pattern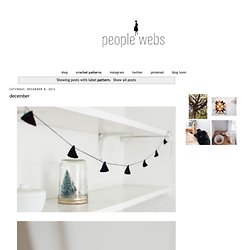 i said to myself, i need a big chunky circular scarf to wear all the time.. and this is what came of it. i am putting this grey one in my etsy shop, and also, here is the pattern: ( this pattern is intended for personal use only, thank you! )
i said to myself, i need a big chunky circular scarf to wear all the time.. and this is what came of it. i am putting this grey one in my etsy shop, and also, here is the pattern: ( this pattern is intended for personal use only, thank you!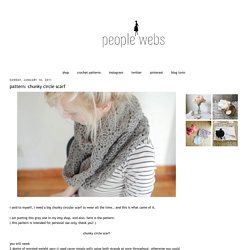 Rose_Brooch
BOBBLE BEAUTY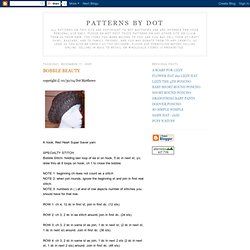 copyright © 10/30/04 Dot Matthews K hook, Red Heart Super Saver yarn SPECIALTY STITCH:Bobble Stitch: holding last loop of ea st on hook, 5 dc in next st, yo, draw thru all 6 loops on hook, ch 1 to close the bobble. NOTE 1: beginning ch does not count as a stitchNOTE 2: when join rounds, ignore the beginning st and join in first real stitch.NOTE 3: numbers in ( ) at end of row depicts number of stitches you should have for that row. ROW 1: ch 4, 12 dc in first st, join in first dc. (12 sts) ROW 2: ch 3, 2 dc in ea stitch around, join in first dc. (24 sts)
Introduction This scarflette looks complicated, but is actually very quick and easy to make, and you can get to use very small amounts of scrap yarn. Materials List Scrap yarn
Circle scarflette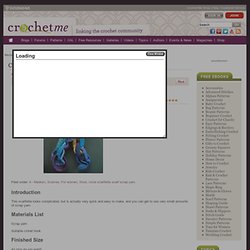 Can I have a Bow?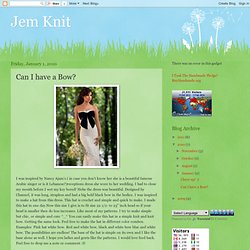 I was inspired by Nancy Ajam's ( in case you don't know her she is a beautiful famous Arabic singer or is it Lebanese?)receptions dress she wore to her wedding. I had to close my mouth before I wet my key bored! Hehe the dress was beautiful.
Scallop Neckwarmer in Plum by janellehaskin on Etsy
Slugs on the Refrigerator: Woolly Owl Hat Pattern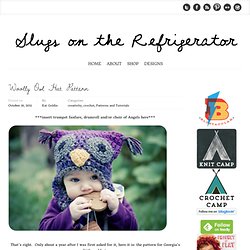 ***insert trumpet fanfare, drumroll and/or choir of Angels here*** That's right. Only about a year after I was first asked for it, here it is: the pattern for Georgia's little owl hat. The pattern is available in worsted (aran) weight as well as bulky. It has been tried and tested by my dedicated team of crocheters, so I hope you will find it an enjoyable and straightforward make.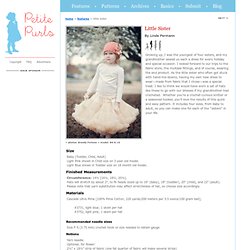 Petite Purls - Spring 2011
Baby [Toddler, Child, Adult] Light Pink shown in Child size on 3 year old model. Light Blue shown in Toddler size on 18 month old model. Circumference: 14½ [16½, 18½, 20½]. Hats will stretch by about 2", to fit heads sized up to 16" (baby), 18" (toddler), 20" (child), and 22" (adult). Please note that yarn substitution may affect stretchiness of hat, so choose size accordingly.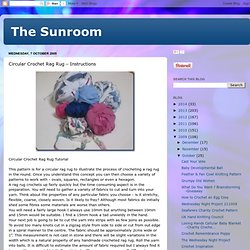 Circular Crochet Rag Rug Tutorial This pattern is for a circular rag rug to illustrate the process of crocheting a rag rug in the round. Once you understand this concept you can then choose a variety of patterns to work with - ovals, squares, rectangles or even a hexagon.
Circular Crochet Rag Rug – Instructions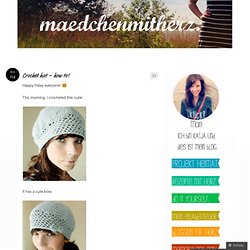 maedchenmitherz.
Happy friday everyone! :) This morning, I crocheted this cutie:
NeoGrandma
Taking product photos that are of the quality and look that I want has proven to be harder than I originally thought. My camera is nice, although somewhat old, and I have (at least I thought) interesting ideas on the way I want my items displayed and portrayed. Well, after hours spent setting up and shooting, I had only a few photos that I wouldn't be embarrassed to share.
And the yarn is yummy too... I bought some gorgeous cream Alpaca from a lovley lady who spun it herself and I managed to cochet up a large Rhombus in motifs, almost 100g last night.
Suz Place