Anti fatigue kitchen floor mats
» WellnessMats – Made in USA Anti-Fatigue Floor Mats obviousamerica. Sometimes a name says it all.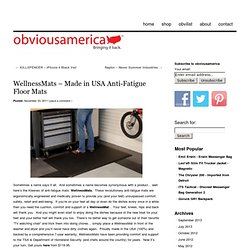 And sometimes a name becomes synonymous with a product… well here's the Kleenex of anti-fatigue mats: WellnessMats. These revolutionary anti-fatigue mats are ergonomically engineered and medically proven to provide you (and your feet) unsurpassed comfort, safety, relief and well-being. If you're on your feet all day or even do the dishes every once in a while then you need the cushion, comfort and support of a WellnessMat… Your feet, knees, hips and back will thank you. Advantages of Acupressure Wellness Mats | mgil.info. WellnessMats. Ease Your Fatigue with the Maxum Mat | South Florida Living | Dine South Florida. After a long day at the office, nothing feels better than to sit back, relax and put your feet up, unless you've experienced the Maxum Mat.
This anti-fatigue wellness mat is the perfect way to pamper your aching feet and legs. It provides one of the most comfortable platforms that I've ever stood upon, and will bring joy to the hours you spend in the kitchen. With a 7-year warranty, the no-trip beveled edge and the ease of keeping the mat clean, you will never want to go without the . Kitchen Tour: Sara Moulton's Everyday Family Kitchen | Apartment Therapy The Kitchn.
After fourteen years in a Manhattan kitchen untouched by renovation, Sara Moulton recently took an axe to it all and started from scratch.
It might shock you to learn she still cooks on an electric stove (no gas in the building) and didn't enlarge the footprint one inch. Better yet, she cooks five nights a week for her family of four and develops all of her recipes there. I spent a recent afternoon in her apartment chatting about what makes an ideal kitchen and helping her make Chicken Saltimbocca from her new book, Sara Moulton's Everyday Family Dinners. Meet Sara Moulton: chef, cookbook author, and television personality. For twenty three years, Sara was the executive chef at GourmetMagazine, until its closing in October 2009. Review – WellnessMats | Bette Boomer. Www.wellnessmats.com - WellnessMats Are you a boomer who stands long hours chopping vegetables, baking and doing the dishes for your frequent family gatherings?
Do you and your grandchildren love to do crafting and art projects standing at your kitchen island? Do you work out or choreograph dances in your home gym to stay healthy and trim? In New York Style.
---