PPC
AdWords "Flexible Reach" Brings Multiple Targeting Methods To Ad Groups. AdWords advertisers on Google's Display Network can now use multiple targeting methods at the ad group level, rather than the campaign level, via a new feature called "Flexible Reach."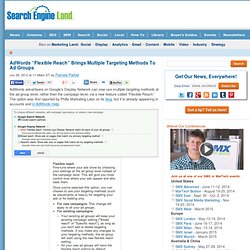 The option was first reported by Philly Marketing Labs on its blog, but it is already appearing in accounts and in AdWords Help. With Flexible Reach, which can be enabled now within the campaign settings under Networks, advertisers can, for example, choose to target to a specific placement or placements — so the ads only show there. Alternatively, they can choose to bid differently for these placements, but continue to target a larger set of sites. Get 280 Characters for your PPC Ads.
5 Ways To Fail Fast Using Paid Search. Let's face it.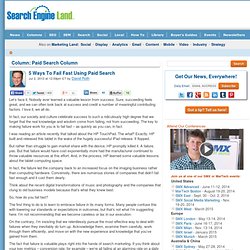 Nobody ever learned a valuable lesson from success. Sure, succeeding feels great, and we can often look back at success and credit a number of meaningful contributing factors. Better Understand Your Ad Traffic, by Google. 10 Foolproof Ways to Earn Your Landing Page Visitors' Trust. Landing pages are a critical tool for meeting your ever-increasing lead generation goals.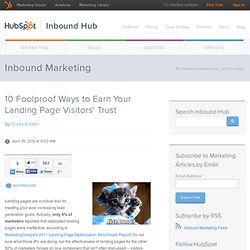 Actually, only 8% of marketers reported that dedicated landing pages were ineffective, according to MarketingSherpa's 2011 Landing Page Optimization Benchmark Report. I'm not sure what those 8% are doing, but the effectiveness of landing pages for the other 92% of marketers hinges on one component that isn't often discussed -- visitors have to trust you enough to give away their personal information on your landing page forms to obtain your offers. The thing is, we've all been burned too many times by companies that don't deliver on their offers' promises, sell our personal information, and SPAM us with irrelevant emails.
As such, we've all accrued some keen Spidey senses that kick in when we visit landing pages that tell us whether a company is trustworthy, or whether we should cut and run. AdCenter Revamps Location Targeting To Mimic AdWords. Microsoft adCenter is making changes to its location targeting functionality that will bring it into line with the industry standard Google AdWords.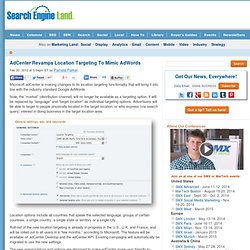 Now, the "market" (distribution channel) will no longer be available as a targeting option. It will be replaced by "language" and "target location" as individual targeting options. The Paid Search Uncertainty Principle. Werner von Heisenberg courtesy of Wikipedia In 1927, Werner von Heisenberg documented what he referred to as an "Uncertainty Principle" governing quantum mechanics.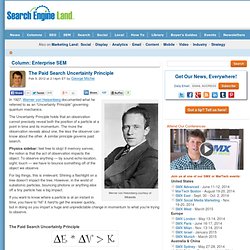 The Uncertainty Principle holds that an observation cannot precisely reveal both the position of a particle at a point in time and its momentum. How to Use Broad Match Modifier. The broad match modifier is an AdWords targeting feature which provides you more control than broad match as the broad match modifier allows for additional word(s) to be before, between, or after the keyword that has been modified.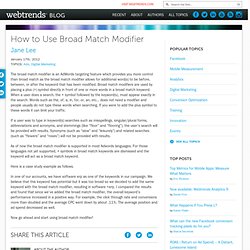 Broad match modifiers are used by placing a plus (+) symbol directly in front of one or more words in a broad match keyword. When a user does a search, the + symbol followed by the keyword(s), must appear exactly in the search. Words such as the, of, a, in, for, or, an, etc… does not need a modifier and people usually do not type these words when searching. If you were to add the plus symbol to these words it can limit your traffic. Google Clarifies: No, Ads Shouldn't Help Rankings & No, SEO Isn't Bad. "SEO isn't good for users" and "It's a bug that you could rank highly in Google without buying ads, and Google is trying to fix the bug" are two quotes from a Google employee that go directly against things Google's said before.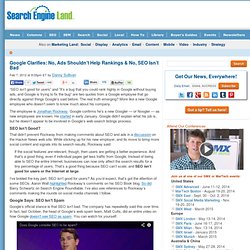 The real truth emerging? More like a new Google employee who doesn't seem to know much about his company. The employee is Jonathan Rockway. 8 Things You Should Know Before Building a Mobile App. Seth Porges is a magazine editor and the creator of Cloth, an iOS fashion app for iPhone and iPod Touch.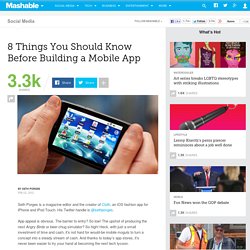 His Twitter handle is @sethporges. App appeal is obvious. The barrier to entry? So low! The upshot of producing the next Angry Birds or beer-chug simulator? 8 Quick Ways to Increase Your AdWords CTR. There are times you just want to increase your click-through rates.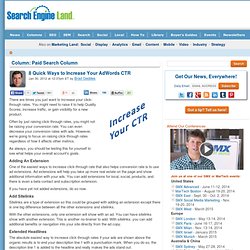 You might need to raise it to help Quality Scores, increase traffic, or gain visibility for a new product. Often by just raising click-through rates, you might not be raising your conversion rate. Anonymous Shows How Easy it is to Intercept FBI Conference Calls. "I'm not sure if we're the only two on right now or not," says a voice with an American accent.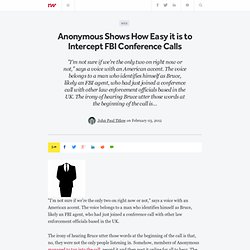 The voice belongs to a man who identifies himself as Bruce, likely an FBI agent, who had just joined a conference call with other law enforcement officials based in the UK. The irony of hearing Bruce utter those words at the beginning of the call is that, no, they were not the only people listening in. Somehow, members of Anonymous managed to tap into the call, record it and then post it online for all to hear. How To Use The AdWords Search Term View To Optimize Keywords & Negatives. Optimizing Keywords and Negatives is a task I recommend to my clients that they do regularly. In this How To, I will include some real-world experience along with the basics of how to use the AdWords Search Term View to optimize keywords and negatives. What Is Search Terms View? Managing PPC Through The Fog Of Long Tail Keywords. PPC managers over the years have always struggled with the right number of keywords to have in their accounts.
Should you build out a big inventory of long tail keywords, or keep your campaigns neat and tidy, with fewer terms that account for most of the volume? Honestly, I'd say that most accounts I've seen, and indeed, many I've built over the years are much more complex and unwieldly than they need to be. Microsoft adCenter Increases Ad Description, Adds Budget Widget & More Mobile Targeting Options. Microsoft announced their January 2012 adCenter release update. The update includes three major additions to adCenter: (1) adCenter increased the ad description length by one additional character from 70 to 71.
AdCenter Releases Features Aimed At Improving Advertiser Time-Efficiency. The adCenter team recently released some features aimed at improving Advertiser Time-Efficiency. These features are live right now, though they may not be officially announced at the time this post is published. During a recent trip to adCenter headquarters, Eric Enge was able to get some insight into these new features, and what we can expect from adCenter in the near future, which he shared in his recent post Can Bing & adCenter Bring More To The Table For Large Advertisers?. Here is a quick synopsis of the new features: AdWords Small Business Guide.
---