Social n tracking
Relationship Management For Twitter that Makes a Difference. Community Management & Lead Generation for Twitter.
Sentiment and Text Analytics Software | Clarabridge
Social Scan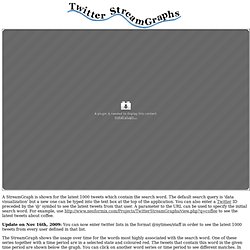 A StreamGraph is shown for the latest 1000 tweets which contain the search word. The default search query is 'data visualization' but a new one can be typed into the text box at the top of the application. You can also enter a Twitter ID preceded by the '@' symbol to see the latest tweets from that user. A parameter to the URL can be used to specify the initial search word.
Alerts Overview - Forum Discussion Search with BoardTracker.com
Social Media Newsroom