Crafts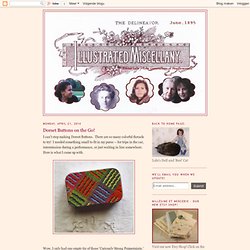 Emma Lulu - Four Generations of Needlewomen
My First (and last? – it's expensive) EGA National Seminar, "Winner by a Stitch," in Louisville Kentucky, October 2013. Although for 25+ years I have been in several EGA chapters (Rochester, San Diego, Boston, Memphis), I have never attended a National Seminar until this year.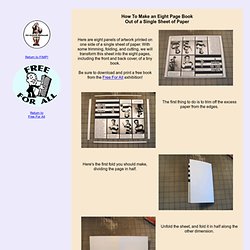 How To Make an Eight Page Book Out of a Single Sheet of Paper
Here are eight panels of artwork printed on one side of a single sheet of paper. With some trimming, folding, and cutting, we will transform this sheet into the eight pages, including the front and back cover, of a tiny book. Be sure to download and print a free book from the Free For All exhibition!
How To Make an Eight Page Book Out of a Single Sheet of Paper
Silicone Plastique® is an amazing mold putty that has the consistency of cookie dough and is very easy to mix and apply. Created by a chef in order to bring the art of mold making into both commercial and home kitchens, Silicone Plastique® has become a valuable tool in the creation of custom food molds around the world. Mold making has always been considered a complicated task, yet with this silicone mold putty a new world of easy mold making has been made possible. Once mixed, Silicone Plastique® will stay workable for about 15 minutes giving ample time to make an accurate and well made mold of almost any object. Cure time is only about an hour at 70 degrees F. to create a pliable yet durable rubber mold suitable for direct food contact. This amazing mold putty can be put in the freezer without losing flexibility and resists temperatures as high as 450 degrees F.
Silicone Plastique - Food Grade Mold Putty, Easy Mold Making | MakeYourOwnMolds.com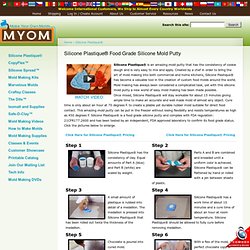 Handmade Gifts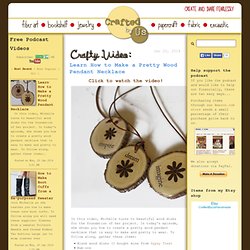 Learn How to Make a Pretty Wood Pendant Necklace In this video, Michelle turns to beautiful wood disks for the foundation of her project. In today's episode, she shows you how to create a pretty wood pendant necklace that is easy to make and pretty to wear.
Crafted by Us