Creativity
Cherry Menlove
Free, Online Knitting Patterns - Beginner Knitting Instructions - Knitting Tips, Tricks, Testimonials and More!
If you're a beginning knitter, you can start with our 45 minute "How to Knit" series. This 3 part introduction to knitting walks the new knitter step-by-step through the knitting basics: Long Tail cast-on and the knit and purl stitches and basic knit bind-off and finishing your knitting.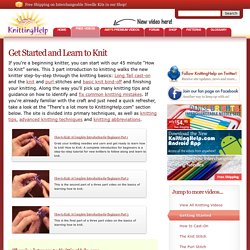 Winter Patterns- hats, mittens, scarves. sweaters, slippers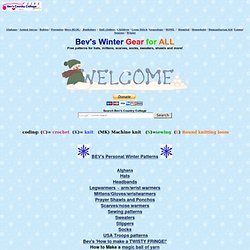 Bev's Winter Gearfor ALLFree patterns for hats, mittens, scarves, socks, sweaters, shawls and more! Search Bev's Country Cottage coding: (C)= crochet (K)= knit (MK) Machine knit (S)=sewing (L) Round knitting loom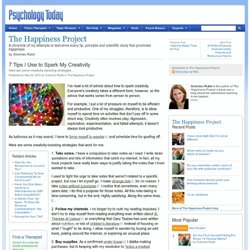 7 Tips I Use to Spark My Creativity
I've read a lot of advice about how to spark creativity . Everyone's creativity takes a different form, however, so the advice that works varies from person to person. For example, I put a lot of pressure on myself to be efficient and productive. One of my struggles, therefore, is to allow myself to spend time on activities that don't pay off in some direct way.