Sustainability
Resource Based Economic Model
Crowdfunding is a new word for an old idea. The Oxford English dictionary defines it as: "the practice of funding a project or venture by raising many small amounts of money from a large number of people, typically via the Internet" Crowdfunding's poster child, Kickstarter, launched in April 2009. It wasn't the first online crowdfunding platform (ArtistShare launched in 2003), but it was the first to become widely known and scale.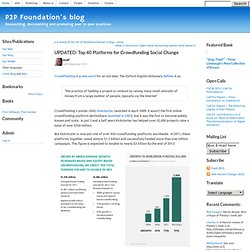 Top 40 Platforms for Crowdfunding Social Change
CES Exchanges - Google Fusion Tables
Self-Sustaining Aquaponic Greenhouse Coming to Vermont Park
The Root Center, a pending non-profit, is building a solar-heated aquaponic greenhouse in Vermont Park. Dubbed "Garden of the Future," the project will house a sustainable fish pond and aquaponic vegetables.