Lingere
Sian Hoffman - bespoke corsetry and foundations
fully fashioned stockings, lingerie, girdles, corsets and bullet bras.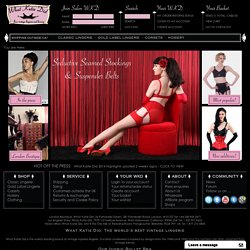 London Boutique: What Katie Did, 26 Portobello Green, 281 Portobello Road, London, W10 5TZ Tel: 0845 430 8943Los Angeles Store: What Katie Did, 7970 1/2 Melrose Avenue, West Hollywood, California, 90046 USA Tel: 1 877 221 2472 or 1 323 951 9622 (from outside US)Head office: What Katie Did, Unit 8 The Old Mill, 61 Reading Road, Pangbourne, Berkshire, RG8 7HY Tel: 0845 430 8743 or +44 118 976 7676 (from outside UK)Registered in England with company number: 05752881 What Katie Did is the world's leading brand of vintage inspired lingerie. Our retro underwear is inspired by designs from the 1940s and 1950s and the patterns are often adapted from vintage pieces. We're most famous for our spiral stitch bullet bra, as worn by Michelle Williams in the movie 'My Week With Marilyn'. But our shapewear is just as essential for achieving that 1950s pin up figure.
Fifi Chachnil le Site Officiel
Vintage Lingerie & Glamourous Pin-up Accessories, boudoir Underwear & Designer Corsets & Retro
Lingerie
Luxury Lingerie With Style - La Magia
Once upon a time, a woman went on a long search for a good suspender belt set… and ended up with a vintage inspired, retro lingerie brand designed for femme fatales; glamorous, sensual and intelligent women with just a hint of danger. The first port of call for anyone wanting a 6 strap suspender belt with metal clips, we now sell girdles, cinchers, corselettes, basques, stockings, bras and a retro swimwear collection! You can find our styles in boutiques and websites across the globe, or buy from our online shop - postage is £4 in the UK, £10 across the globe, and completely free anywhere on all orders over £100!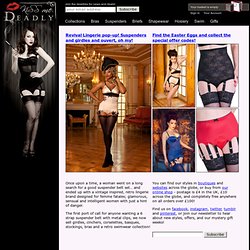 Elegant Lingerie for Femme Fatales! — Kiss Me Deadly
Petra Dos Santos
Frederick's of Hollywood - Lingerie, Bras, Panties and Corsets
Stripper Clothes, Clear Heels, Pasties, Gowns, and Costumes - Divas Stripper Clothes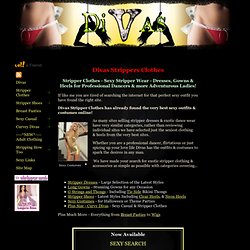 If like me you are tired of searching the internet for that perfect sexy outfit you have found the right site. Divas Stripper Clothes has already found the very best sexy outfits & costumes online! As many sites selling stripper dresses & exotic dance wear have very similar categories, rather than reviewing individual sites we have selected just the sexiest clothing & heels from the very best sites. Whether you are a professional dancer, flirtatious or just spicing up your love life Divas has the outfits & costumes to spark the desires in any man.
Secret Desires: Spice Up Your Love Life!
Victoria's Secret: Lingerie and Women's Clothing, Accessories & more.
Vixen's Visions
Welcome to We carry the largest selection of sexy dresses online!!!! > We're pleased that you selected our site to shop online for sexy dresses, club dresses, classy dresses, cocktail dresses, black tie dresses, hot dresses, cyber Monday deals, Vegas style dresses, sheer club dresses, sexy dancer dresses, short dresses, prom dresses, New Years Eve dresses, party dresses, NYE gowns, glamorous evening gowns and elegant gowns, sexy lingerie, bridal lingerie, sexy club tops, sexy robes, valentine lingerie, christmas lingerie, bra and panty sets, sexy clubwear, winter clubwear, flirty short & skirt sets, lingerie bra sets, custom design dresses, pants sets, sexy jeans, bikinis, swimwear, coverups, sexy leather and vinyl clubwear, spiked heels, pinup pumps, stripper shoes and boots, stiletto heels, and platform dancer shoes.© The styles range from stripper clothes, exotic dancer clothes to the sweet and innocent.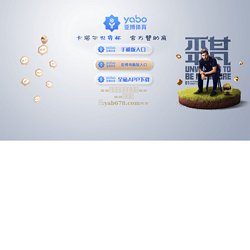 Agent Provocateur | Luxurious Lingerie | Seductive lingerie, nightwear, swimwear & bridalwear
Sexy Lingerie Store, Intimate Apparel, Sexy Halloween Costumes
Un slogan qui résume bien l'univers rock'n'roll et décomplexé de Delphine von Kaatz et de ses petites culottes. Delphine crée pour les pin-ups, pour les strip-teaseuses burlesques, pour les rockeuses qui se déshabillent sur scène (la chanteuse des GOSSIP notamment), pour celles qui vocalisent plutôt sous la douche, pour les girls next door, pour les filles androgynes qui cachent une petite culotte à froufrous sous leur jean élimé, et pour toutes celles qui ont envie de se faire confectionner une petite culotte perso!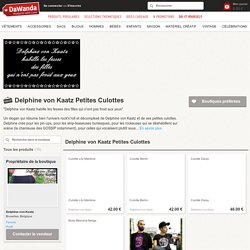 Tous les articles de Delphine-von-Kaatz
On Friday night, I sat knee-to-knee with my friend Sarah, as we watched Gabby on stage. She was launching her new book, Miracles Now. The lecture was incredible, and afterwards, she opened up the stage for Q&A.
www
Sexy Clothes Sexy Dresses Sexy Clubwear Sexy Lingerie Sexy Swimwear Sexy Halloween Costumes | Flirt Catalog
Flash Lingerie - 100% Lingerie ~ 100% Tendance ! Lingerie, Mode et Beauté