Scrap Data
Freebase-parallax - New way to browse and explore data in Freebase. Freebase Parallax provides a new way to browse and explore data in Freebase.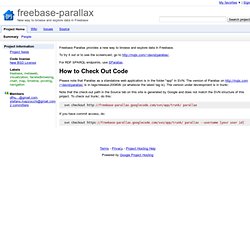 To try it out or to see the screencast, go to For RDF SPARQL endpoints, use SParallax. Please note that Parallax as a standalone web application is in the folder "app" in SVN. The version of Parallax on is in tags/release-200808/ (or whatever the latest tag is). Coding for Journalists 103: Who's been in jail before: Cross-checking the jail log with the court system; Use Ruby's mechanize to fill out a form | Dan Nguyen pronounced fast is danwin.
This is part of a four-part series on web-scraping for journalists.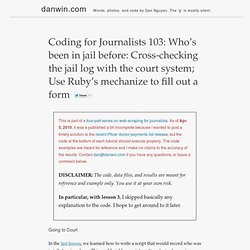 As of Apr. 5, 2010, it was a published a bit incomplete because I wanted to post a timely solution to the recent Pfizer doctor payments list release, but the code at the bottom of each tutorial should execute properly. The code examples are meant for reference and I make no claims to the accuracy of the results. Contact dan@danwin.com if you have any questions, or leave a comment below. DISCLAIMER: The code, data files, and results are meant for reference and example only.
You use it at your own risk. Coding for Journalists 102: Who's in Jail Now: Collecting info from a county jail site | Dan Nguyen pronounced fast is danwin. A note about privacy: This tutorial uses files that I archived from a real-world jail website.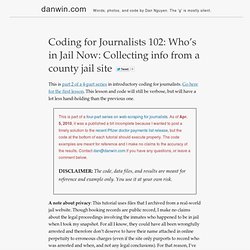 Though booking records are public record, I make no claims about the legal proceedings involving the inmates who happened to be in jail when I took my snapshot. For all I know, they could have all been wrongfully arrested and therefore don't deserve to have their name attached in online perpetuity to erroneous charges (even if the site only purports to record who was arrested and when, and not any legal conclusions). For that reason, I've redacted the last names of the inmates and randomized their birthdates. Coding for Journalists 101: Go from knowing nothing to scraping Web pages. In an hour. Hopefully. | Dan Nguyen pronounced fast is danwin. UPDATE (12/1/2011): Ever since writing this guide, I've wanted to put together a site that is focused both on teaching the basics of programming and showing examples of practical code.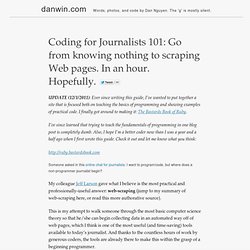 I finally got around to making it: The Bastards Book of Ruby. I've since learned that trying to teach the fundamentals of programming in one blog post is completely dumb. Also, I hope I'm a better coder now than I was a year and a half ago when I first wrote this guide. Check it out and let me know what you think: Coding for Journalists 104: Pfizer's Doctor Payments; Making a Better List | Dan Nguyen pronounced fast is danwin. Update (12/30): So about an eon later, I've updated this by writing a guide for ProPublica.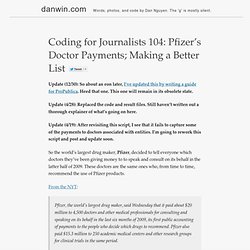 Heed that one. This one will remain in its obsolete state. Chapter 4: Scraping Data from HTML. Web-scraping is essentially the task of finding out what input a website expects and understanding the format of its response.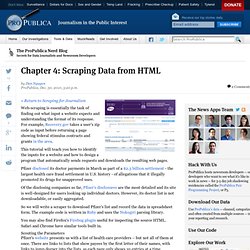 For example, Recovery.gov takes a user's zip code as input before returning a page showing federal stimulus contracts and grants in the area. This tutorial will teach you how to identify the inputs for a website and how to design a program that automatically sends requests and downloads the resulting web pages. Pfizer disclosed its doctor payments in March as part of a $2.3 billion settlement - the largest health care fraud settlement in U.S. history - of allegations that it illegally promoted its drugs for unapproved uses. Chapter 2: Reading Data from Flash Sites. Flash applications often disallow the direct copying of data from them.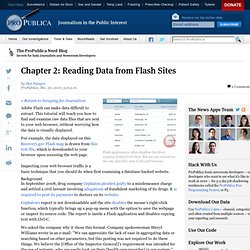 But we can instead use the raw data files sent to the web browser. Adobe Flash can make data difficult to extract. This tutorial will teach you how to find and examine raw data files that are sent to your web browser, without worrying how the data is visually displayed. For example, the data displayed on this Recovery.gov Flash map is drawn from this text file, which is downloaded to your browser upon accessing the web page. Chapter 1. Using Google Refine to Clean Messy Data. Google Refine (the program formerly known as Freebase Gridworks) is described by its creators as a "power tool for working with messy data" but could very well be advertised as "remedy for eye fatigue, migraines, depression, and other symptoms of prolonged data-cleaning."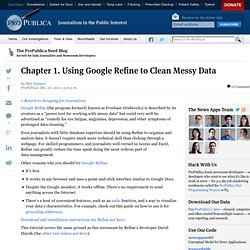 Even journalists with little database expertise should be using Refine to organize and analyze data; it doesn't require much more technical skill than clicking through a webpage. For skilled programmers, and journalists well-versed in Access and Excel, Refine can greatly reduce the time spent doing the most tedious part of data-management. Tesseract-ocr - An OCR Engine that was developed at HP Labs between 1985 and 1995... and now at Google. Tesseract is probably the most accurate open source OCR engine available.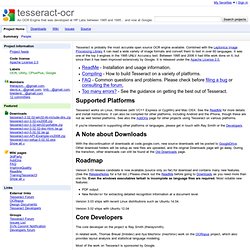 Combined with the Leptonica Image Processing Library it can read a wide variety of image formats and convert them to text in over 60 languages. It was one of the top 3 engines in the 1995 UNLV Accuracy test. Between 1995 and 2006 it had little work done on it, but since then it has been improved extensively by Google. It is released under the Apache License 2.0. Refine - Google Refine, a power tool for working with messy data (formerly Freebase Gridworks) Refine, reuse and request data. Scraping for Journalism: A Guide for Collecting Data. Photo by Dan Nguyen/ProPublica Our Dollars for Docs news application lets readers search pharmaceutical company payments to doctors.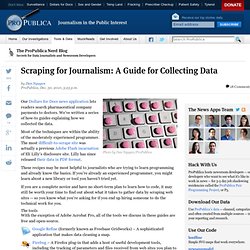 We've written a series of how-to guides explaining how we collected the data. Most of the techniques are within the ability of the moderately experienced programmer. Data Extraction. From iMacros "At the Independent Evaluation Unit of the World Bank, we are using iMacros... to streamline our information gathering and research tasks. " Alex McKenzie, The World Bank "I run ~900 Script against 1500 websites daily. If it wasn't for iMacros I would have to have 3 or 4 people sit around all day and download data.
" Java - Writing a Web Page Scraper or Web Data Extraction Tool. By admin on Jan 6, 2008 in Java, Programming Download Source Code In my previous article I wrote about Web-Harvest which is an open source software that can be used for web data scraping, here I am going to show you a real-life example of using it to scrap data from this web site. To write a web data scrapping tool, normally the web pages must be structural. This is what we normally called structured or semi-structured web pages. Data Scraping Information from the Web with ASP.NET: Rick Leinecker. Web Data Scraping Software Tools. The Mozenda Agent Builder is only available for Windows. But you still have options! Mozenda offers professional services.
We can build and run agents for you, collecting the data you need into your own account. You can try running the Agent Builder using a Windows virtualization solution such as Parallels. To find out more about our professional services, fill out and submit the request form to the right and a services representative will contact you shortly. Web Crawling Scraping Tool save to data. The Mozenda Agent Builder is only available for Windows. But you still have options! Mozenda offers professional services. We can build and run agents for you, collecting the data you need into your own account. You can try running the Agent Builder using a Windows virtualization solution such as Parallels. Dapper: The Data Mapper. I need to automate/scrape data from IE. I've got a task that is just screaming for automation. Every week, I have to get a number for each of 36 entities for some metrics I do and that basically consists of counting the 'Y's in a certain column in a table on a company web page.
Each entity requires picking a value in a dropdown, refreshing the page, and counting 'Y's. It's a slow, cumbersome, tedious, and vulnerable to error process. What I'd love is to point perl at the site and get back the numbers quickly and cleanly. Here's what I do know (I don't know what matters): Data Feed Scraping. Automated Data extraction/Web scraping Services | Development of an automated climatic data scraping, filtering and display system 10.1016/j.compag.2009.12.006 : Computers and Electronics in Agriculture. Automated Form Submissions and Data Scraping - MySQL. IRobotSoft -- Visual Web Scraping and Web Automation Tool for FREE.
Branded journalists battle newsroom regulations. Python Programming Language – Official Website. Beautiful Soup: We called him Tortoise because he taught us. An Introduction to Compassionate Screen Scraping.
Ruby Programming Language. Coding for Journalists 101 : A four-part series | Dan Nguyen pronounced fast is danwin. Data Scraping Wikipedia with Google Spreadsheets. Creating a Scraper for Multiple URLs Using Regular Expressions | OutWit Technologies Blog.
Hub Tutorials. OutWit Hub. How to scrape web content. Data Scraping | Web Scraping | Data Scraper | Web Data Scraping. How to Scrape Websites for Data without Programming Skills. How to Do Content Scraping. How to scrape web content.
---