Real estate / Immobilier
The duration of foreclosures in the subprime mortgage market: a competing risks model with mixing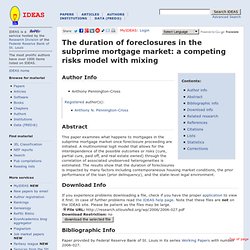 Abstract This paper examines what happens to mortgages in the subprime mortgage market once foreclosure proceeding are initiated. A multinominial logit model that allows for the interdependence of the possible outcomes or risks (cure, partial cure, paid off, and real estate owned) through the correlation of associated unobserved heterogeneities is estimated. The results show that the duration of foreclosures is impacted by many factors including contemporaneous housing market conditions, the prior performance of the loan (prior delinquency), and the state-level legal environment. Download Info If you experience problems downloading a file, check if you have the proper application to view it first.
Real Estate Research: New study claims to solve the econometric problem of the link between foreclosure and house prices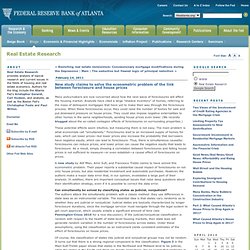 « Revisiting real estate revisionism: Concessionary mortgage modifications during the Depression | Main | The seductive but flawed logic of principal reduction » February 14, 2011 New study claims to solve the econometric problem of the link between foreclosure and house prices Many policymakers are now concerned about how the next wave of foreclosures will affect the housing market. Analysts have cited a large "shadow inventory" of homes, referring to the mass of delinquent mortgages that have yet to make their way through the foreclosure process.
Lodging Econometrics - Hospitality Research, Hotel Development Research, Lodging Supply and Trends, Lodging Pipeline, Lodging Census, Sales Comps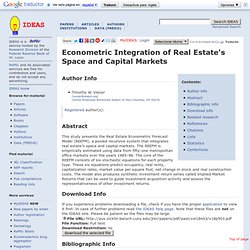 Share: MyIDEAS : Login Con la tecnología de Traductor de Google Abstract This study presents the Real Estate Econometric Forecast Model (REEFM), a pooled recursive system that integrates real estate's space and capital markets. The REEFM is empirically estimated using data from fifty-one metropolitan office markets over the years 1985–96.
Econometric Integration of Real Estate's Space and Capital Markets
By Lodging Econometrics 03 November 2010 Construction Pipeline Overview Asia Pacific's Total Construction Pipeline is up to 1,944 projects/473,613 rooms at the end of Q2 after five consecutive quarters of escalating project and guestroom counts. China and India, two of the world's fastest growing economies, are the driving force behind this resurgent construction activity. Both countries' pipelines re­ceded only slightly from pre-recession highs.
Lodging Econometrics Real Estate Trends Report | Hotel Management Asia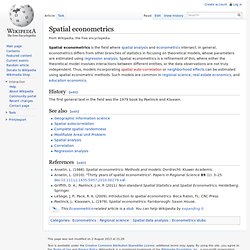 Spatial econometrics is the field where spatial analysis and econometrics intersect. In general, econometrics differs from other branches of statistics in focusing on theoretical models, whose parameters are estimated using regression analysis . Spatial econometrics is a refinement of this, where either the theoretical model involves interactions between different entities, or the data observations are not truly independent. Thus, models incorporating spatial auto-correlation or neighborhood effects can be estimated using spatial econometric methods. Such models are common in regional science , real estate economics , and education economics .
Spatial econometrics
Traditional models for panel data were widely used to analyze real estate price impact factors. But traditional models for panel data may cause spatial dependence problems. So spatial and geographical factors should be taken into account. Global spatial autocorrelation Moran's I indices are calculated and local spatial autocorrelation LISAs are figured. Then spatial regression models, including spatial lag model and spatial error model, are presented and empirical analysis is made to study real estate price impact factors in China.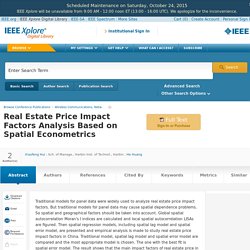 Abstract Page
In this paper, we analyze the enormous variation in the price of building land across West German regions. We outline a theoretical model that ties a household's willingness to pay for building land to the inter-temporal value of employment. Using data for NUTS 3 regions the theoretically derived impact of labor market variables and other influences is investigated.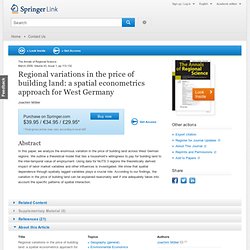 The Annals of Regional Science, Volume 43, Number 1
Real Estate Price Impact Factors Analysis Based on Spatial Econometrics--《Economic Review》2012年01期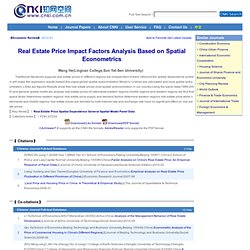 Wang He(Lingnan College,Sun Yat-Sen University) Traditional literatures suppose real estate prices in different regions are independent of each other,but the spatial dependence problem will make the regression results biased.this paper,global spatial autocorrelation Moran's I indices are calculated and local spatial autocorrelation LISAs are figured.Results show that real estate prices exist spatial autocorrelation in our country.Using the panel data(1999-2009) and general spatial model,we analyse real estate prices of nationwide,eastern regions,middle regions and western regions.we find that space factor determines eastern regions' real estate price,supply and demand factors determine western regions real estate price,while nationwide and middle regions' real estate prices are decided by both.Interest rate and exchange rate have no significant effect on real estate prices.
real estate price impact factors analysis based on spatial econometrics
Go back to Home Page Econometrics combines economic theory with statistics to analyze and test economic relationships. Click on the term above to see the Wikipedia definition of Econometrics. John C.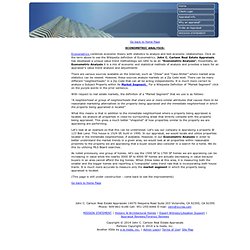 Econometric, econometrics, econometric analysis, market study, market segment, market trends, market value trend, declining value, Real Estate Appraisal - home appraisal - appraiser - real estate appraiser - residential appraisals - Diamond Bar, CA - John
Modul Real Estate Economics and Econometrics
EViews.com
EViews.com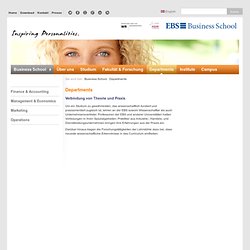 Dipl.-Vw. Zeno Adams Room: Atrium, 2nd floor, R. 2.035 Phone: +49 611 7102 1215 E-mail: zeno.adams @ ebs.edu
Real Estate Economics and Econometrics - EBS Business School - Wirtschaftsuniversität
RealStat - Econometric Solutions for Real Estate Appraisal