Python ressources
perceptron.py - python-perceptron - A perceptron library
2012 algorithme perceptron python
algorithme perceptron python
Python 2.7 Tutorial
Python 2.7 Tutorial Part 2
Python Development with PyDev and Eclipse - Tutorial Copyright © 2009, 2010, 2011, 2012 Lars Vogel Python, Pydev and Eclipse This article describes how to write and debug Python programs with Eclipse
Each script invoked from the command line in Python has access to any arguments in the sys.argv list. While the contents of this list are quite predictable, it is rarely necessary to handle them directly. The preferred option is to use the optparse module and the OptionParser class from that module. An instance of OptionParser has methods for adding options (long and short flags) and including parameters with those options (if desired). The action to be taken when an option is encountered is also configurable, including setting a boolean flag, storing a value, or executing a callback function. Defaults and help text are also covered, as well as error handling.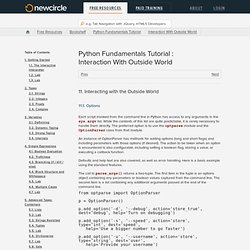 Python Fundamentals Tutorial : Interaction With Outside World
Pro Django Class
Pro Django See the promised sample multi-db/inspectdb code at github . Welcome to our Pro Django Class! Some of you may not have much Python experience - be sure to check out the Python Fundamentals page and download the courseware for our Python class - all the material there should be familiar to you. Also pay close attention to the section labeled "tools" - the tools mentioned there are all worth knowing about when writing applications of any kind with Python. You can download the courseware we'll be going through and be sure to bookmark the excellent Django Documentation .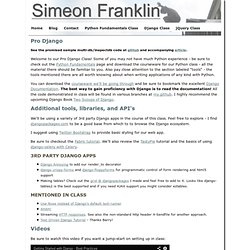 Simeon Franklin Welcome to my Python Fundamentals Course! Completions from last week are here .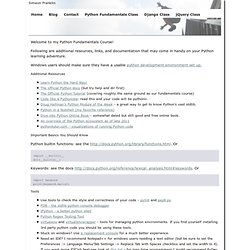 Python Fundamentals
Python Fundamentals Tutorial : Index
1.1. The Interactive Interpreter The Python installation includes an interactive interpreter that you can use to execute code as you type it. This is a great tool to use to try small samples and see the result immediately without having to manage output or print statements. If you have not done it yet, download the lab files at the following URL: https://marakana.com/static/student-files/python_fundamentals_labs.zip (Linux / Mac) Open a terminal and type python .