Viva
Sistemas agroflorestais e pousio melhorado como alternativa a agricultura de corte e queima
Palestra proferida na Segunda Oficina de formação de multiplicadores socioambientais, Canarana - MT por Fabiana Mongeli Peneireiro Engenheira Agrônoma - MsC em Ciências Florestais na ESALQ/USP email:fmpeneireir@ .(tirar_essa_parte). yahoo.com Percebemos cada vez mais que precisamos da natureza para podermos viver bem: ar puro, água de qualidade e em quantidade, terra fértil, plantas as quais nos fornecem alimentos, medicamentos, fibras e várias outras matérias primas. Nos esquecemos de que fazemos parte da natureza. Somos, naturalmente, nos ecossistemas, um animal de grande porte.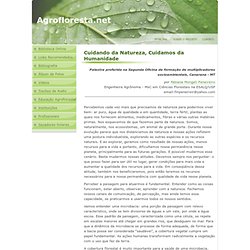 4 ways to do Mail Merge using Google Apps Script
Editor's Note: This blog post is co-authored by James, Steve and Romain who are Google Apps Script top contributors. -- Ryan Boyd The Google Apps Script team is on a roll and has implemented a ton of new features in the last few months. Some of us "Top Contributors" thought it will be a useful exercise to revisit the Mail Merge use case and discuss various ways in which we can do Mail Merge using Apps Script. Below are several techniques that tap into the power of Google Apps Script by utilizing Gmail, Documents and Sites to give your mailings some zing. Mail Merge is easy and here is how it can be done. 1.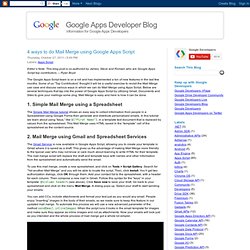 Pour utiliser les Forums Google Groupes, activez JavaScript dans les paramètres de notre navigateur, puis actualisez cette page. Pas prêt pour le changement ? Sélectionnez temporairement l'ancienne interface de Google Groupes depuis le menu des paramètres. Importez les recherches prédéfinies pour les ajouter à vos recherches enregistrées. Connectez-vous ou commencez à organiser vos groupes et à consulter les éléments récents. Hi there, I'm new to Google sites and I do have a question.
How to create a form - Grupos do Google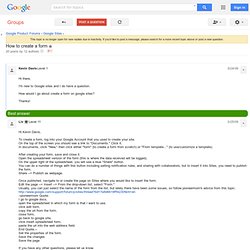 Tutorial: Simple Mail Merge - Google Apps Script
Insert a Blog List from Blogger in Google Sites - Annuaire du Vin
A test to embed a blog within Pages of Google Sites IMPORTANT : Following a change (2008.12.10) of Google Sites, the following hack is no more valid !! The hack : within the iframe add attribute igsrc="URL of pic" URL of pic acts as a placeholder for the iframe . An example in Google Sites Use now a Google Gadget which insert an iframe !
How to incorporate a blog and a feed within Google Sites - Annuaire du Vin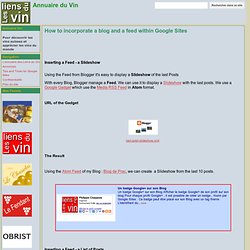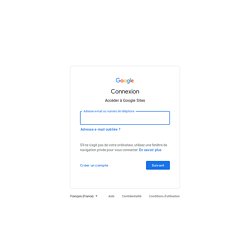 inserting Google Calendar - Annuaire du Vin
Google Calendar / Agenda The code given by Google Calendar is an iframe : <iframe src=" http: //www.google.com/calendar/embed?height=400&wkst=2&bgcolor=%23339999 &src=philippe.chappuis%40gmail.com&color=%232952A3&ctz=Europe%2FLondon " style=" border:solid 1px #777 " width="600" height="400" frameborder="0" scrolling="no"></iframe>
Gadgets - Insert Map, Calendar, Slideshow, Video, Flash Animation - Annuaire du Vin
A Playlist with a Flash reader - Annuaire du Vin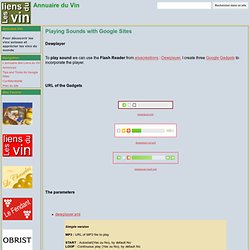 Playing Sounds with Google Sites - Annuaire du Vin
For mp3 hosted by Deezer we can play sound using a simple reader. I write a Google Gadget which just need the ID of the song as parameter. URL of the Gadget
Tips and Tricks for Google Sites - Annuaire du Vin