Shield
Insect Screen
How to block Wi-Fi signals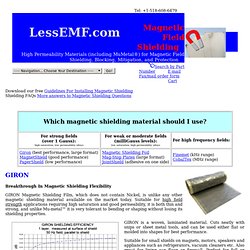 Download our free Guidelines For Installing Magnetic Shielding Shielding FAQs More answers to Magnetic Shielding Questions Breakthrough In Magnetic Shielding Flexibility GIRON Magnetic Shielding Film, which does not contain Nickel, is unlike any other magnetic shielding material available on the market today.
Magnetic Field Shielding Materials
Giron is as of now the only flexible material to shield the magnetic field. It can be bent to a 90-degree angle with minumal loss of efficiency. Its real name is G-iron Flex. It is produced and sold by G-iron Srl, an Italian company. Visit www.g-iron.it/en to read more. by gironshielding Mar 11
Extremely Fine Shielding Mesh Need light to penetrate your RF shielding? This Nickel and Copper anti-radiation coated polyester mesh offers fairly good transparency and excellent corrosion resistance. Better than 50dB of attenuation makes this the perfect choice for indoor window screens and shielding which requires air circulation. Flexible and light weight, cuts easily for custom sizing. Can be used indoors or out.
Electromagnetic Field Shielding Fabrics