Edtech
What is MITx? This set of FAQs accompanies MIT's Dec. 19, 2011 announcement regarding MITx.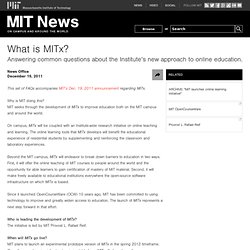 Why is MIT doing this? MIT seeks through the development of MITx to improve education both on the MIT campus and around the world. On campus, MITx will be coupled with an Institute-wide research initiative on online teaching and learning. The online learning tools that MITx develops will benefit the educational experience of residential students by supplementing and reinforcing the classroom and laboratory experiences. Beyond the MIT campus, MITx will endeavor to break down barriers to education in two ways. Tecfa.unige.ch/tecfa/publicat/dil-papers-2/003-GENTILE-67.pdf. History of Computers in Education. History, the History of Computers, and the History of Computers in Education 1780 - Early public schools adopt the teacher/manager model with the teacher as the primary manger of instruction and assessment in a single classroom. 1946 - First vacuum tube-based computers developed; universities help in computer development effort; technology used in war effort. 1951 - Little technology used in schools, primarily TV; baby boom begins with resulting increases in class size; first-generation Univac computer delivered to the US census bureau. 1954 - General Electric is the first business to order a computer.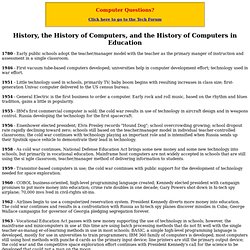 The First Digital Teaching Platform - TimeToKnow. ContentGenerator.net - create your own Educational Flash games. Www.ed.gov/sites/default/files/netp2010-execsumm.pdf. Marc Prensky.com. Teachers.Net - TEACHERS - Teacher chat, lesson plans, teaching jobs. Teachers.Net for the most active teacher chatboards & teacher chatrooms, featuring thousands of teaching jobs, over 150 teacher mailrings and over 150 teacher chatboards, and live te.
Free web application for brainstorming online. 100+ Online Resources That Are Transforming Education. Yury Lifshits is working on algorithms and prototypes of new services at Yahoo!
Research. Before that he was teaching university courses in the U.S., Germany, Russia and Estonia. Technology & Learning - The Resource for Education Technology Leaders. Alas Media. National Education Technology Plan 2010. "By 2020, America will once again have the highest proportion of college graduates in the world."
—President Barack Obama, Address to Congress, February 24, 2009 The National Education Technology Plan, Transforming American Education: Learning Powered by Technology, calls for applying the advanced technologies used in our daily personal and professional lives to our entire education system to improve student learning, accelerate and scale up the adoption of effective practices, and use data and information for continuous improvement. Elementary. Top 100 Education Blogs. Education blogs are becoming a means for educators, students, and education administrators to interact more effectively than ever before.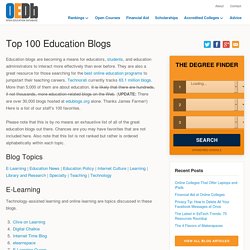 They are also a great resource for those searching for the best online education programs to jumpstart their teaching careers. Technorati currently tracks 63.1 million blogs. More than 5,000 of them are about education. It is likely that there are hundreds, if not thousands, more education-related blogs on the Web. ToonDoo. Moodle Tutorials ::: Educating Educators. One Laptop per Child (OLPC), a low-cost, connected laptop for the world's children's education.
Blogs. Elearning. Podcast: Buddhist Geeks - Seriously Buddhist, Seriously Geeky. Computer-Using Educators Inc. CUE. Digital Native. Welcome to MS in Instructional Design and Technology Website! TechLEARNING.com | Tech&Learning - Ideas and Tools for Ed Tech Leaders. Second_Life.
---