Edtech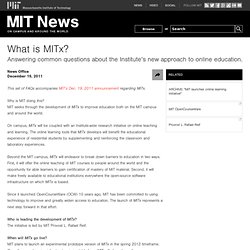 This set of FAQs accompanies MIT's Dec. 19, 2011 announcement regarding MITx. Why is MIT doing this?
tecfa.unige.ch/tecfa/publicat/dil-papers-2/003-GENTILE-67.pdf
History, the History of Computers, and the History of Computers in Education
History of Computers in Education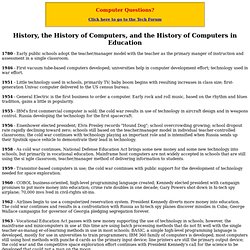 Kno.com
www.ed.gov/sites/default/files/netp2010-execsumm.pdf
Yury Lifshits is working on algorithms and prototypes of new services at Yahoo! Research. Before that he was teaching university courses in the U.S., Germany, Russia and Estonia.
Alas Media
"By 2020, America will once again have the highest proportion of college graduates in the world." —President Barack Obama, Address to Congress, February 24, 2009 The National Education Technology Plan, Transforming American Education: Learning Powered by Technology , calls for applying the advanced technologies used in our daily personal and professional lives to our entire education system to improve student learning, accelerate and scale up the adoption of effective practices, and use data and information for continuous improvement.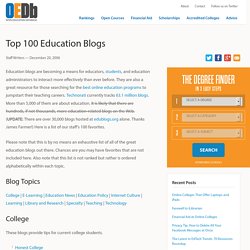 Wednesday 20th December, 2006
ToonDoo
Moodle Tutorials ::: Educating Educators
One Laptop per Child (OLPC), a low-cost, connected laptop for the world's children's education
for change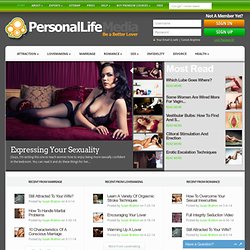 Podcast: Buddhist Geeks - Seriously Buddhist, Seriously Geeky
See this episode on the new Buddhist Geeks site. In this episode we wrap up our discussion with meditation teachers Tina Rasmussen and Stephen Snyder, two of the only lay Western teachers authorized to teach the jhana system of Pa Auk Sayadaw. They share the deeper purpose of concentration practice, which isn't to attain any particular states, but rather is to serve as a purification of the mind stream, what they describe as the "thinning of the me." They describe the 8 jhanas as states that progressively reach toward the unconditioned, with the 8th jhana, neither perception nor non-perception, as a realm that is as close as you can get to the unconditioned without being itself unconditioned. From there emerges no-thingness, then consciousness, space, and finally form itself. They tell their students that orienting toward the unconditioned, or "the force", is a type of jedi mind training.
Computer-Using Educators Inc. CUE
Digital Native
Welcome to MS in Instructional Design and Technology Website!