Edtech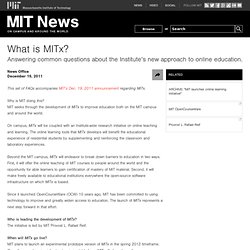 What is MITx?
This set of FAQs accompanies MIT's Dec. 19, 2011 announcement regarding MITx. Why is MIT doing this?
tecfa.unige.ch/tecfa/publicat/dil-papers-2/003-GENTILE-67.pdf
History, the History of Computers, and the History of Computers in Education
History of Computers in Education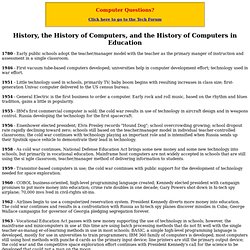 The First Digital Teaching Platform - TimeToKnow
ContentGenerator.net - create your own Educational Flash games
www.ed.gov/sites/default/files/netp2010-execsumm.pdf
Marc Prensky.com
Teachers.Net - TEACHERS - Teacher chat, lesson plans, teaching jobs. Teachers.Net for the most active teacher chatboards & teacher chatrooms, featuring thousands of teaching jobs, over 150 teacher mailrings and over 150 teacher chatboards, and live te
free web application for brainstorming online
100+ Online Resources That Are Transforming Education
Yury Lifshits is working on algorithms and prototypes of new services at Yahoo! Research. Before that he was teaching university courses in the U.S., Germany, Russia and Estonia.
Technology & Learning - The Resource for Education Technology Leaders
Alas Media
"By 2020, America will once again have the highest proportion of college graduates in the world." —President Barack Obama, Address to Congress, February 24, 2009 The National Education Technology Plan, Transforming American Education: Learning Powered by Technology, calls for applying the advanced technologies used in our daily personal and professional lives to our entire education system to improve student learning, accelerate and scale up the adoption of effective practices, and use data and information for continuous improvement.
National Education Technology Plan 2010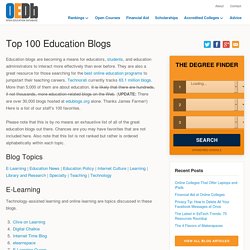 Top 100 Education Blogs
Education blogs are becoming a means for educators, students, and education administrators to interact more effectively than ever before. They are also a great resource for those searching for the best online education programs to jumpstart their teaching careers. Technorati currently tracks 63.1 million blogs. More than 5,000 of them are about education. It is likely that there are hundreds, if not thousands, more education-related blogs on the Web.
ToonDoo
Moodle Tutorials ::: Educating Educators
One Laptop per Child (OLPC), a low-cost, connected laptop for the world's children's education
Podcast: Buddhist Geeks - Seriously Buddhist, Seriously Geeky
Computer-Using Educators Inc. CUE
Digital Native
Welcome to MS in Instructional Design and Technology Website!
techLEARNING.com | Tech&Learning - Ideas and Tools for Ed Tech Leaders