CSUN
SED 646
The Road Toward Citizenship: The Plight of the Undocumented By VIRGINIA ISAAD She has vague memories of the day her parents packed up and brought her and her sister to the U.S.
El Nuevo Sol » Proyecto multimedia del programa de periodismo en español de California State University, Northridge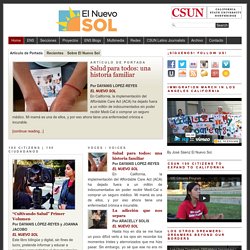 Holiday Closure The university will be formally closed in observance of the Martin Luther King Jr. holiday on Monday, Jan. 20. The Department of Police Services will operate during the closure and can be reached at 818-677-2111.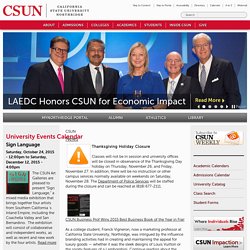 Hello and welcome to Technology Inspired (Ti), a hub for the K-5 educator. You are visiting one of many educator hubs existing in the Internet today. The resources and contents of this site will expand and change as Ti develops and grows along with you.
Technology Inspired - 21st Century Learning and Beyond!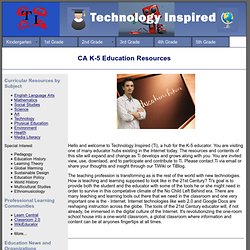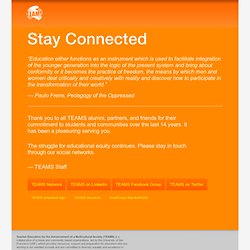 "Education either functions as an instrument which is used to facilitate integration of the younger generation into the logic of the present system and bring about conformity or it becomes the practice of freedom, the means by which men and women deal critically and creatively with reality and discover how to participate in the transformation of their world." — Paulo Freire, Pedagogy of the Oppressed Thank you to all TEAMS alumni, partners, and friends for their commitment to students and communities over the last 14 years. It has been a pleasuring serving you. The struggle for educational equity continues. Please stay in touch through our social networks.
TEAMS/AmeriCorps Fellowship Program
CSUMentor
The Trustees of the California State University have directed that "all students entering the CSU System . . . be required to demonstrate their proficiency with regard to writing skills as a requirement for graduation." The Trustees further specified that writing proficiency must be demonstrated after a student earns 56 semester units and that a lower division course, such as freshman composition, may not be used to fulfill the requirement. Within these constraints, each CSU campus determined the means to meet the requirement. After careful consideration, the CSUN faculty decided that on this campus students would meet the requirement by writing an acceptable test essay.
California State University, Northridge
Educational Technology Masters Cohort