Charter
Waiting for "Superman" a film directed by Davis Guggenheim Ordinarily, documentaries about education attract little attention, and seldom, if ever, reach neighborhood movie theaters.
The Myth of Charter Schools by Diane Ravitch
ERIC PDF Download
News 21 | The Charter Explosion
Green Dot Public Schools | Transforming Public Education in Los Angeles
New York City Charter School Center
Harlem Village Academies
Williamsburg Collegiate Charter School
National Alliance for Public Charter Schools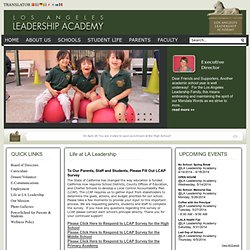 Our Mission The Los Angeles Leadership Academy prepares urban secondary students to succeed in college or on chosen career paths, to live fulfilling, self-directed lives, and to be effective in creating a just and humane world. High-powered, performance-based assessment, and an integrated curriculum promote critical thinking and intellectual depth, breadth, and agility. Close relationships between students and staff and attention to students' individual needs and interests promote a community of well-rounded learners. Students have opportunities to take action on important social issues, to work alongside community mentors, and to enhance the learning power of these experiences through reflection and skill development in the classroom.
Los Angeles Leadership Academy | Tomorrow's Leaders, Today