STUFF
Wonderful Joy Ahead: Design your own font (tutorial) Have you ever wanted to turn your own handwriting into a font?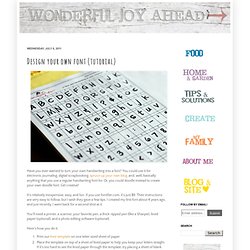 You could use it for electronic journaling, digital scrapbooking, spruce up your own blog, and, well, basically anything that you use a regular handwriting font for. Or, you could doodle instead to create your own doodle font. Get creative! It's relatively inexpensive, easy, and fun. If you use fontifier.com, it's just $9. Handmade Books. The last couple weeks I have been learning how to make books as part of my internship at the Morgan Art of Papermaking Conservatory.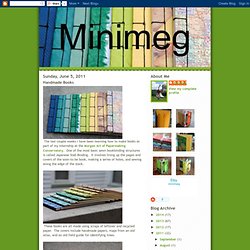 One of the most basic sewn bookbinding structures is called Japanese Stab Binding. It involves lining up the pages and covers of the soon-to-be book, making a series of holes, and sewing along the edge of the stack. These books are all made using scraps of leftover and recycled paper. The covers include handmade papers, maps from an old atlas, and an old field guide for identifying trees. Self portrait outfit photography guide . photography month. You guys, I'm so excited to have Elycia of ♥elycia on the blog today!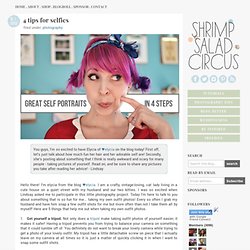 First off, let's just talk about how much fun her hair and her adorable self are! Secondly, she's posting about something that I think is really awkward and scary for many people - taking pictures of yourself. Book Page and Cardboard Kleenex Box Ornament. Here is a tutorial on how to take an ordinary Kleenex box and make it into an ornament.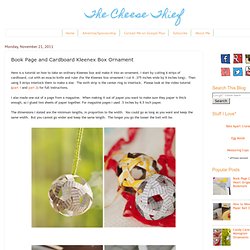 I start by cutting 6 strips of cardboard, cut with an exacto knife and ruler (for the Kleenex box ornament I cut it .375 inches wide by 9 inches long). Then using 5 strips interlock them to make a star. The sixth strip is the center ring to interlock. Please look at the video tutorial (part 1 and part 2) for full instructions. Photoshop Tutorial: Learn Basic Photo Editing To Enhance Colours/Light/Contrast. Hi everyone!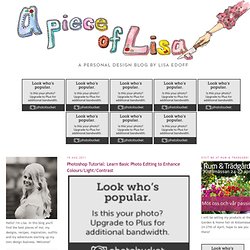 Here is a tutorial I've been working on for anyone that is new to photo editing. I wanted to show you two very easy ways to dramatically enhance the colours, contrast and light balance in your photos. I work in Photoshop, but I think that the methods I show would be fairly similar in other photo editing software. Longstitch Bookbinding Tutorial for a Leather Journal | tortagialla.com - the virtual creative journal of Artist Linda Tieu. The most common type of sewn bookbinding that I often default to, falls into the category of longstitch binding.
It's really a general categorization for many different methods of sewn binding. People have invented their own patterns and techniques and have probably called it something else as well. Suffice to say, it's a general way to denote sewing your paper to the cover of your book. I'm sure you've noticed journals out there with exposed sewing in the binding in a variety of patterns and designs. An easy way to make cute notebooks! Today I didn't feel like doing anything but I gave myself a kick in the proverbial and made a little notebook.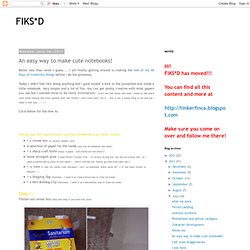 Very simple and a lot of fun. You can get pretty creative with what papers you use but I wanted mine to be fairly minimalistic. (Let's not talk about the mess I made in the spare room while making this little number shall we? Really, I don't know how I do it... this is not a messy thing to do and yet I make it that way... >. < ) The Southern Institute: Mini Memo Book Covers from Larissa at mmmcrafts. Welcome to The Southern Institute, I'm so glad you're here!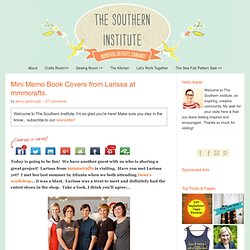 Make sure you stay in the know... subscribe to our newsletter! Today is going to be fun! Make a garland from woven paper balls. I love paper Christmas decorations, so when I bumped into The Cheese Thief's woven paper ball tutorial, I had to give it a try.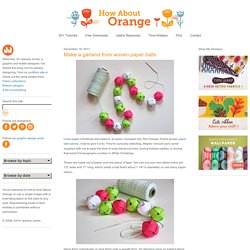 They're curiously addicting. Maybe I should carry some supplies with me to pass the time in long check-out lines, boring holiday parties, or during that weird Choreography number in White Christmas. These are made out of paper and one piece of tape. You can cut your own strips (mine are 1/2" wide and 11" long, which yields a ball that's about 1 1/4" in diameter) or use shiny paper ribbon. How to Weave a Paper Ball Ornament.
When I was in Thailand, I would see the local people weave palm leaves into beautiful bowls, fans, balls and other amazing things.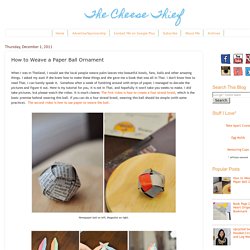 I asked my aunt if she knew how to make these things and she gave me a book that was all in Thai. I don't know how to read Thai, I can barely speak it. Somehow after a week of fumbling around with strips of paper, I managed to decode the pictures and figure it out.
---